Have you recently decided to buy shutters for your home? Maybe you've even visited our showroom, chosen your shutter style, had precise window measurements taken and received your quote… 
It's probably a big number. Shutters are an investment; there's no doubt about it. They come boasting many benefits, including perfect privacy and unrivalled light control. But what are you actually paying for? What makes them so costly? 
There are many factors that influence your quote, and these make sure that it is as accurate as possible. In this blog, we explore exactly what impacts the price of your shutters.
Size Of Window
Regardless of the style of shutter you choose, shutters are charged per square metre. This means that the size of the shutter will always be relative in price to others within the same range; a tiered shutter for a standard window will cost less than a bespoke tiered shutter made for a bay window.
Larger windows require larger shutters, and these involve more materials to make. It's that simple. So if you only want to purchase shutters for only one room, one floor or one side of the house, this will obviously come in far cheaper than a whole-house shutter transformation. 
And if you're thinking of gracing multiple properties with made-to-measure, premium shutters, you can expect to pay a lot more for five holiday homes than one small bungalow.
Shutters work brilliantly for all window sizes, even that strange, tiny window in your downstairs loo. Don't believe us? We've written a blog about it. 
Material Used
The second factor that impacts the price of your shutters is the materials they are made from.
Wooden shutters will always be the most expensive, but different shutters use various types and amounts of wood combined with polypropylene or ABS (acrylonitrile butadiene styrene) to achieve different looks, levels of water resistance and shutter density.
The combination of material and shutter style can influence the price of your shutters, too. Cafe-style shutters only cover the lower half of your windows, for example, meaning there is far less wood or ABS needed compared to full, solid shutters. Certain timbers may also be short in supply during any given year, so the price of shutters made from it is likely to go up.
Wondering what the Scottish Shutter Company has to offer? You can check out our broad range of different shutter materials here.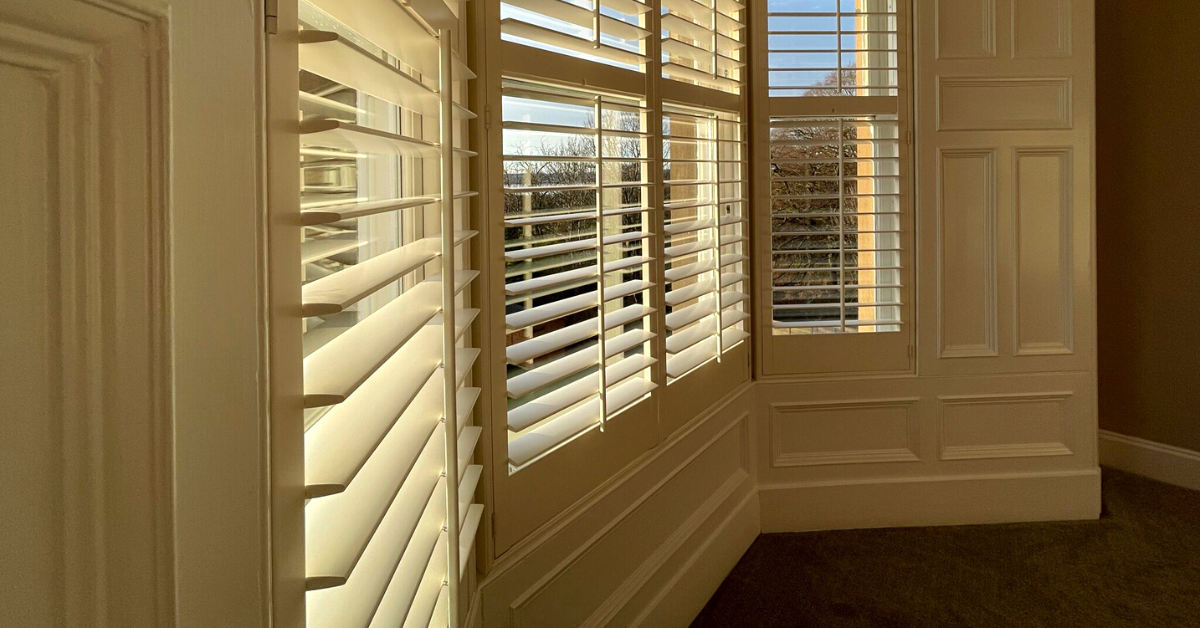 Window Shape
The price of your shutters can also be heavily impacted by the shape of your windows. 
This is because awkward shapes, like large bays, arches and circles, require more time spent crafting the shutters themselves. 
Weird-shaped windows can't be simply cut from a mould like standard window shapes and sizes, and it takes longer for the professionals to hand-craft the frames and louvres to achieve the same high-performing, beautiful product. 
Paying extra for expertise and labour can up the price of your shutters, but it's worth it for the multitude of benefits that come with installing shutters in your home, like energy efficiency, incredible light and privacy control and increased home sale value. 
And that's not all. Read up on 5 extra, unexpected advantages of shutters in this brilliant blog! 
Professional Installation
It's true; you could try and install your own shutters. You could even get your local handyman to give it a go at a lower cost than professional, BBSA-approved shutter fitting experts.
But it's not worth it. Fitting millimetre-perfect shutters is a skill that takes intense training and plenty of experience to get right. And the shutters themselves are a costly product – you don't want to risk damaging them during installation.
With the Scottish Shutter Company, you can expect the highest quality workmanship and a long-lasting shading solution that has been meticulously fitted. Professional installation will increase the price of your shutters, but it also ensures that your brand-new window coverings will have a long life protecting your home from cold and sunlight.
If you're about to take the leap and purchase shutters, but you're still not quite sure if shutters are right for you and your home, check out this comprehensive list of 13 questions to ask before you buy.
Guarantee
When you shop for shutters with the Scottish Shutter Company, you're not just paying for quality workmanship, accurate measurements, expert fitting and a friendly smile… All sales also come with a full 5-year guarantee.
That's right. 5 WHOLE YEARS. Our products last, look incredible and provide perfect home shading solutions that will change your life.
When was the last time you made a big investment that came with complete peace of mind? We believe in our products and look after our customers, so if you have a problem, we'll solve it for you.
Here at the Scottish Shutter Company, we provide luxury blinds and shutters for beautiful homes, and our advice and solutions automatically control the unwanted effects of sunlight and cold. We're proud to have helped thousands of homeowners save money and enhance their surroundings. 
The Price Of Shutters Can Vary, And For Good Reason 
There's a lot that goes into a quote. Now that you've read about all of the factors that can impact the price of your shutters, you can see why there's such a big investment involved.
Shutters are expensive because they're made from premium materials, and things like size, shape and style of the shutter can impact the cost. Not forgetting expert installation by pros who know what they're doing – fitting shutters without sufficient experience could end up being a very costly mistake.
They're an investment, but remember, shutters improve the energy efficiency of your home. The money you save on heating and air-con because of your beautiful shutters will soon offset the cash you parted with to buy them. 
Ready to get a quote for shutters you love? Click here and start the journey from dreary curtains and blinds to shutters with the wow factor.