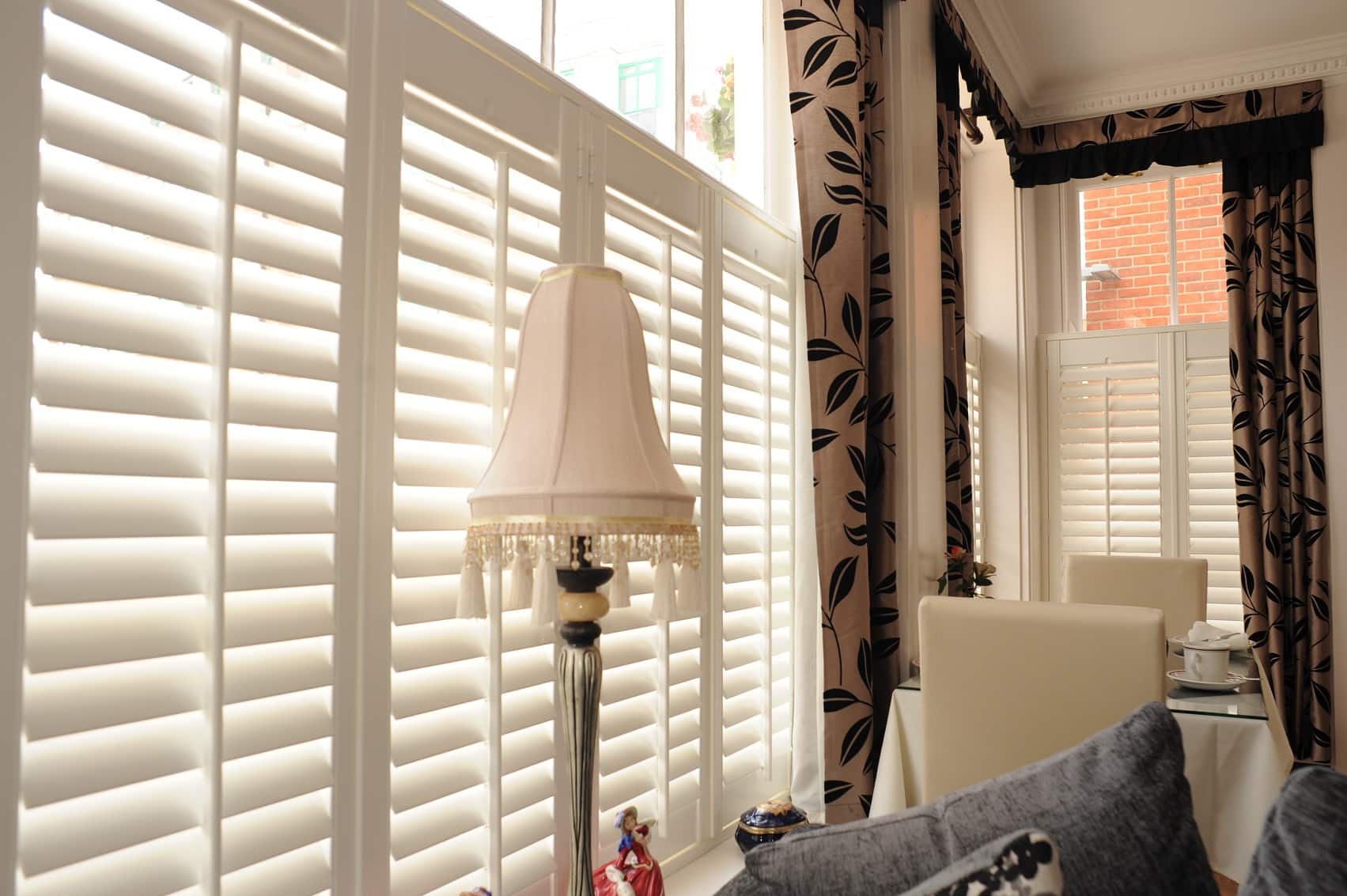 Maximise light whilst providing privacy. With the top of the window un-shuttered, Café style shutters are ideal for ground level windows and town houses.
They're ideal for living rooms and kitchens that face the street, and for enhancing the authentic look of Victorian properties. That said, they fit perfectly with contemporary décor too and offer a huge amount of kerb appeal to any home.
Imagine bringing a touch of continental chic to your home.
A solution that leaves light flooding in through the top half of your window, while you make a design statement below. 
Imagine combining sleek design with style, form and function, whilst maximising the light and space in every corner of your home…
Here's where S:CRAFT bay window shutters really shine. Not only are you able to make a bold, beautiful feature of your bay windows, but you'll gain more space too.
Instead of curtains – which take up space and gather dust – S:CRAFT shutters are low maintenance and fixed directly to your window frames, freeing up space and turning each bay in your home into a treasured design statement. Plus, you get to control light levels and privacy to suit you.
Bi-fold tracked shutters work well in conjunction with bi-fold doors, allowing you to concertina large runs of shutters out of the way and bring the outside in.
The perfect choice if you're thinking of re-imagining larger windows or glass doors, track shutters provide ultimate light control whatever the time of day or night. When the louvres are tilted at an angle, they also add privacy to patio doors in your home, or glass dividing screens in an office environment.
Dividing up your space with a stylish solution like plantation shutters helps keep your home that bit warmer when you need it.
Independent panels top and bottom give greater adjustability to make the most of light, the view or provide you with privacy.
They look and feel just like full height plantation shutters, but they have two separate panels – one on top of the other – that each function independently.
The beauty of this design is that you're able to enjoy light flooding in through the top panels when open, whilst comfortably controlling privacy by leaving the lower panels closed. Opening the top panels echoes the look of café style shutters, whilst resembling the appearance of full height when shut. Watch our video to see the difference between full height, tier-on-tier and café style.
The robust nature of S:CRAFT shutters and their high quality finish provides a fantastic solution for wardrobe doors. Solid panels, solid bases and fixed louvres can be specified to meet your aspirations.
Wardrobe door shutters will do just that, effortlessly. Most wardrobes have solid panels that open outwards, limiting your space. But S:CRAFT shutters offer so much more flexibility. You can choose to either have fold-out doors, or install a smart track system and slide your doors partly or fully open without compromising space.
Your shutters can be made to measure any wardrobe and colour-match any high street paint, so they'll instantly look as though they'd always been there. Best of all, you can open the louvres to ventilate your clothes while keeping the doors closed!
Due to the bespoke nature of our products, we are able to create cut-outs around your door handles to suit each bespoke installation.
S:CRAFT shutters can be crafted to fit any door size and can be matched to blend with window shutter designs too, creating a seamless style across any room. They're fixed to the door, instead of the frame, and you can colour match them to any high street paint. Plus, you can specify cut-outs that accommodate existing door locks and handles. This is practicality and elegance, made to measure.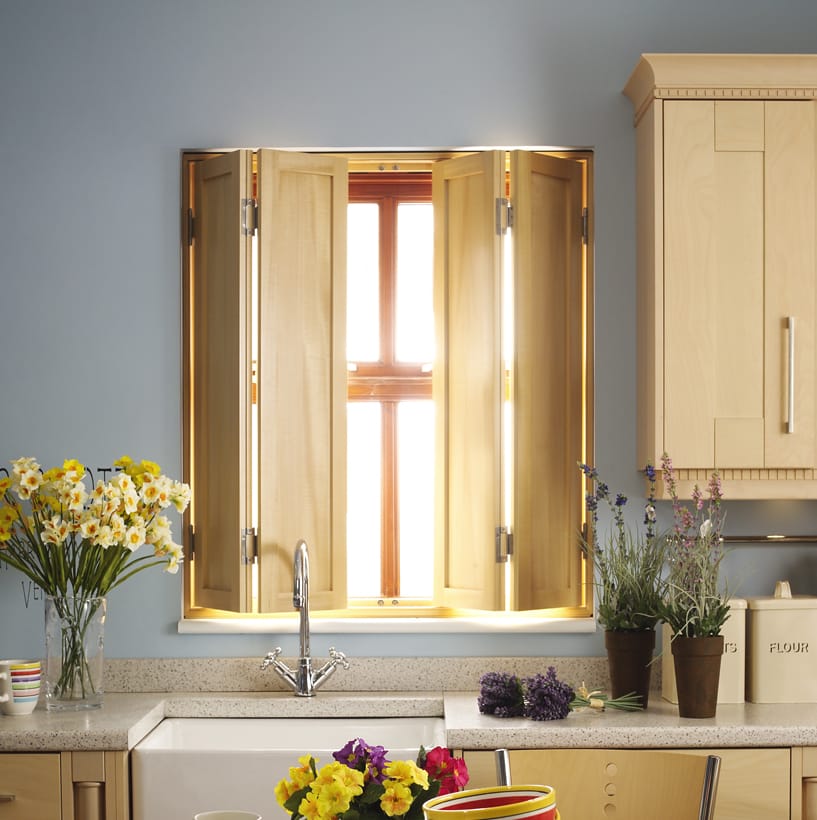 Solid shutters have been used in the UK for more than 200 years and provide a more traditional finish to your window.
S:CRAFT solid panel shutters step forward and really impress. Instead of tilting louvres, they are crafted from solid premium hardwood panels, so you can choose to have them fully open to let the light shine in, or close them and block it out completely due to their unique nature.
If you have a large period property, these are a classic choice as they tend to blend in perfectly with the flow of the room. During the day, you're able to flood each room with warm light. And at night, you can block out any light from outside, simply by shutting them.
There's the additional benefit of improved insulation, perfect for homes with only single glazing due to the age of the property.
Even the most unusual window shapes can be catered for within the S:CRAFT shutter range. Most popular styles include arches, circles and gable installations.
Increasingly, homes are imbued with all manner of window shapes and sizes – unique features can add character to any wall, roof or ceiling. S:CRAFT shutters let you take back control of light and privacy and make a bold design statement at the same time.
The combination of engineered panels and a high quality finish with a final UV protective layer provide an ideal solution for conservatory installations. Let as little or as much light in as you want.
No matter what size or shape, your conservatory can enjoy an instant makeover with S:CRAFT shutters.  
Traditionally cold in winter and hot in the summer, conservatory usage can be influenced by fluctuating temperatures. 
This is where S:CRAFT shutters really come into their own, as you can continue to enjoy the view while taking control of the light and warmth.  
Take back control and enjoy your conservatory all year round with stunning plantation shutters.
S:CRAFT's range of skylight shutters provide a stylish yet highly practical light and heat control solution for your windows. Ordering shutters for your skylights really couldn't be simpler, our stockists will just need your window model number.
during the day, to filter out unwanted glare, or to keep your home a little cooler, you can simply shut them and have an equally lovely style feature looking back at you. 
Hanging blinds on a dormer window isn't easy, but adding shutters is an alternative that can be considered. 
They will add design appeal and practicality to the trickiest of spaces and give you ultimate control of both light and privacy, unlike solid, or fabric coverings.