Even the most unusual window shapes can be catered for within the S:CRAFT shutter range. Most popular styles include arches, circles and gable installations.
Re-imagine any space, no matter how unusual or awkward with a design statement that's practical, precisely fitted and picture perfect.
Increasingly, homes are imbued with all manner of window shapes and sizes – unique features can add character to any wall, roof or ceiling. But they're not always practical and it can be hard to find coverings that fit. Not so with S:CRAFT shutters. They let you take back control of light and privacy and make a bold design statement at the same time.
Round, square, triangular, oval – whatever the shape, you can enjoy a premium, made-to-measure shutter system that fits both the space and your sense of style perfectly.
Having an irregular shaped window or opening requires something a bit more unique. S:CRAFT shutters suit all window shapes, no matter how curved or angled, small or large, so make a perfect alternative to off-the-shelf coverings like curtains, drapes or blinds.
Due to the age of some properties, window frames can warp and bend over time, making shutters the natural choice for period homes. Adding a layer to your windows, shutters also help insulate your home, making them an excellent choice for older properties that tend to have single paned glass in the windows.
Whether a triangle, arch or circle, the shape of the window or opening itself will dictate which material choices are available, so always speak to your local S:CRAFT supplier to see which options are possible for your home.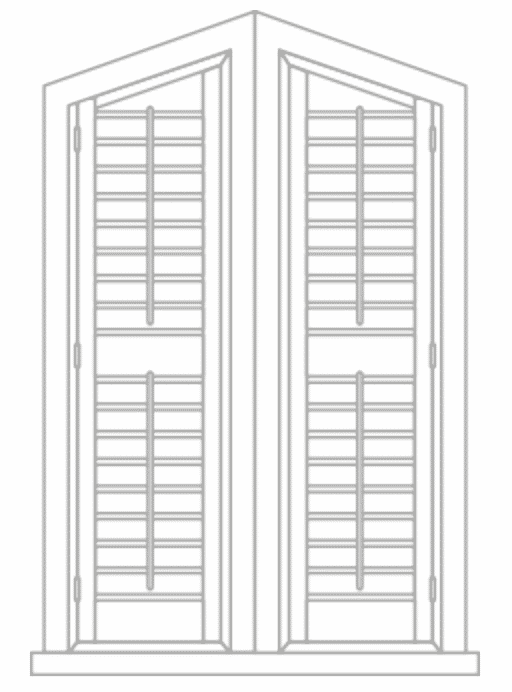 Our range of shutter materials
Click the buttons below to scroll through each individual shutter material.
Made from a stable and quick growing timber, our Fiji shutters are favoured by people looking for a classic wood stained look. Suitable for all special shapes and solid panels.
Ideal if you like natural textures
Choice of 23 paint colours and 27 stain colours, as well as custom paint option
Sustainable hardwood
Available in 5 louvre sizes ranging from 47mm to 114mm
Crafted from ABS, a high-grade plastic with both hard and lightweight qualities. Fully moisture resistant, it is ideal for rooms that have condensation or chance of exposure to water.
Water resistant shutter best suited for Kitchens and Bathrooms
Choice of 23 beautiful colours and custom colour option
Available in 5 louvre sizes ranging from 47mm to 114mm
Limited special shapes
Our top-of-the-range Samoa product is crafted from either stylish ayous (painted finish) or sustainably sourced white teak (stained finish). An optional hidden hinge is available.
Optional hidden hinge
Choice of 23 paint colours and 27 stain colours, as well as custom paint option
Five louvre sizes from 47mm to 114mm
Distinctively robust and hardwearing