Our awning parts and fabric supplies have been untouched by the new pandemic of delays, shortages, and frustrations until last month.
However, like most outdoor product suppliers this year, our manufacturer has experienced a demand that has far outstripped supply.
Consequently, orders placed now and for the foreseeable future will be for delivery and installation in early 2022.
We believe demand will remain high for the early part of 2022, so it may be better to plan ahead and order now and get in the queue.
Garden & Patio Awnings
Our high-performance garden and patio awnings are available in a stunning range of bold stripes, jacquards and plains that you'll love and will add instant exterior style.
In addition to keeping you comfortable whatever the weather outdoors, our exclusive fabric technology protects your awning colour so that it won't rot or fade.
Remote Controlled Garden Awnings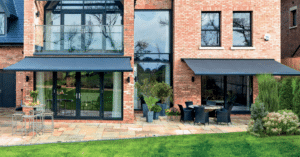 We've made sure that operating your awning for either inside or outside your property is easy. With a simple press of a button, you can wirelessly control your awning. Whether you want to have the fabric fully extended, halfway or fully retracted is just a simple button press.
The same hand-held controller can also control the arm lights which are built into your awning.
Automatic Wind Sensor
Your awning also has an automatic wind sensor. This means your awning will retract when the wind seems too high to protect your awning and its fixings.
Your awning will be fully cassetted which means that when the awning is fully retracted, the fabric and arms will be completely protected from the elements inside a powder-coated metal cassette. This cassette, along with the awning arms and front rail will all be in white (RAL 9010) or grey (RAL 7016) – the choice is yours.
From protecting small balconies and plants to large awnings that offer poolside protection,
LED Awning Lighting
Why end your fun early just because it's getting dark?
LED lights are fitted into the arms of your awning, creating a sophisticated lighting effect.
Luxaflex Base Plus Awning – What You Get
Fully cassetted awning from 1600mm to 5500mm wide wide
Sloping Drop from 1600mm to 3100mm (One Face/Top Fix Bracket at each end of the cassette)
White (RAL 9010) Hardware (Grey RAL 7016 f.o.c. option)
Complete with Dickson Solar Protection Plain Fabric
Motorised
LED Arm Lighting
Wind Sensor
5 metre UV protected black mains cable
175mm front valence
Remote Control Handset 
Five Year Warranty
Luxaflex Base Plus Awning – What It Costs
Awnings 2022
| Width (mm) | Projection (mm) | Price (£) |
| --- | --- | --- |
| 2000 | 1600 | £4,090 |
| 2500 | 1600 | £4,270 |
| 2500 | 2100 | £4,460 |
| 3000 | 1600 | £4,590 |
| 3000 | 2100 | £4,820 |
| 3000 | 2600 | £5,090 |
| 3500 | 1600 | £4,810 |
| 3500 | 2100 | £5,010 |
| 3500 | 2600 | £5340 |
| 3500 | 3100 | £5,660 |
| 4000 | 1600 | £5,140 |
| 4000 | 2100 | £5,370 |
| 4000 | 2600 | £5,650 |
| 4000 | 3100 | £5,940 |
| 4500 | 1600 | £5,320 |
| 4500 | 2100 | £5,560 |
| 4500 | 2600 | £5,860 |
| 4500 | 3100 | £6,140 |
| 5000 | 1600 | £5,650 |
| 5000 | 2100 | £5,920 |
| 5000 | 2600 | £6,220 |
| 5000 | 3100 | £6,530 |
| 5500 | 1600 | £5,910 |
| 5500 | 2100 | £6,210 |
| 5500 | 2600 | £6,510 |
| 5500 | 3100 | £6,830 |
All prices are inclusive of accurate site measure, delivery, installation and VAT.
Pricing applies to installation in Central Scotland areas. Other areas of Scotland and Self-Fit Awnings – POA. 
Fixing Accessories
Additional brackets, such as spreader plates, bungalow brackets, gutter brackets and pipe brackets if required for successful mounting to the property are available as optional extras. We can discuss these with you, if necessary when we come and visit your home.
Spreader Plates
In certain situations, in order to provide a secure fixing for the awning brackets to your wall, we will fit "spreader plates" or "bungalow brackets". These plates allow us to spread the weight of your awning over a wider area and away from the top section of your wall.

Our brackets are:
Subjected to rigorous testing and a thorough quality control programme which has resulted in the awarding of EU certification.
Exposed to climatic testing to guarantee longevity
Mild steel brackets powder coated after bead blasting and coated with a patented zinc coating
Supplied with the bracket fixings to fix your awning bracket securely to the spreader plate.
Electrical Connection
An external, waterproof 13 Amp socket (twin socket if you're adding the optional heater) connected to your home electricity supply is required to be fitted by your electrician prior to the installation of the awning. Full details will be provided once your order is received.
Warnings…
The Luxaflex Base Plus awning is intended for use as a sun protection device. It can also be used in light rain and light wind conditions but must be retracted during periods of high wind, heavy rain or snowfall. That's why we include an automatic wind sensor.
Fitting an awning to your home is not a DIY task. Awnings are heavy and they need to be securely fixed to your wall. As soon as you extend your awning, you place a big load on the mounting fixings. This load is further increased on a windy day. That's why we'll take great care when we survey your property to make sure that an awning can be safely and securely mounted.
Optional Infrared Patio Awning Heater
The Rio Grande is a stylish infrared 1.5kW heater ideal for indoor or outdoor use. The Rio Grande is one of the elite members of the Tansun product range, adding elegance to our range of Infrared heaters. Primarily used in heating applications that include; alfresco dining, bars, smoking areas and terraces.
Efficient and Reliable Outdoor Heating Solution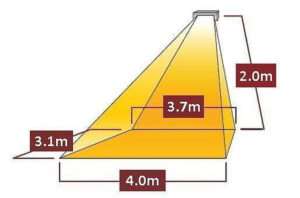 The Rio Grande is a fully weatherproof heater used in all seasons, and comes with a safety guard fitted as standard- this popular range of heater comes with a two-year manufacturer's warranty.
Showroom Appointments
You can see a Luxaflex Base Plus Awning in operation in our Edinburgh Showroom.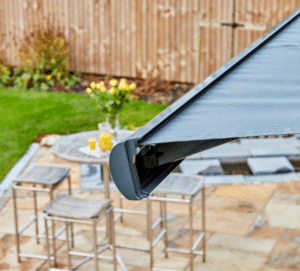 Once the current COVID restrictions end, our showrooms will open again but with an appointment-only system in operation. This keeps both you and us safe by limiting the number of people who are in our showrooms at any given time.
This means that if you book a showroom appointment you will receive the complete and undivided attention of one of our shading experts – with no interruptions – guaranteed.
It often helps if you are able to bring with you some rough sizes and a picture of where you would like your awning to be situated.
To book an appointment, call 01382 761020.
The Luxaflex Base Plus is our main awning offering. There are a number of different awning models in the Luxaflex range, particularly if you need something larger. We'd be happy to discuss these with you.
Awning Characteristics
If you're thinking about buying an awning, then you really must read this document.
It has been produced by the British Blind and Shutter Association (BBSA) to highlight the key characteristics of folding arm awnings to help you make an informed choice when buying your awning.
BBSA Product Characteristics – Folding Arm Awnings v2
Shop Awnings
Shop awnings typically require local planning permission and may come under road traffic regulations as well. You have to bear in mind that the general public may be affected by your awning.
If you're planning to add a logo or text to the awning, then local outside advertising laws may also apply as you are, in effect, advertising to the public.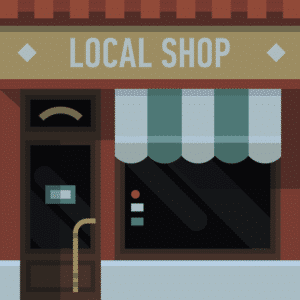 Applying for permission through your local authority can be time-consuming. This is probably why some shop awnings are fitted without the necessary approvals in place.
It's for this reason that we ceased offering shop awnings a few years back.