The World's Smartest Roller Blind.
Roller blinds are trendy and come in a wide range of fabrics and colours. But they all have one challenge. When they're down, they're down. And, if you've chosen an opaque material, then you can't see through the fabric when its down. Which is fine at night as that's what gives you privacy. However, by day, it would often be good to still have privacy but also see out.
Of course, you could solve this challenge by opting for transparent roller blinds, and you will definitely see out by day. But everyone outside will see into your room at night when it's dark outside when you have the lights on.
So how about a roller blind that will allow you to see outside when it's down but also give you perfect privacy at night?
Enter the fantastic Twist Roller Blind from Luxaflex.
A Twist blind allows you to adjust the incoming light levels and privacy – a fully adjustable roller blind.
Metallic Threads
As you would expect, there's a wide variety of fabrics, colours and transparencies to suit whatever room you're decorating. You can even have fabrics with metallic thread woven into them, thereby emphasising the beautiful design.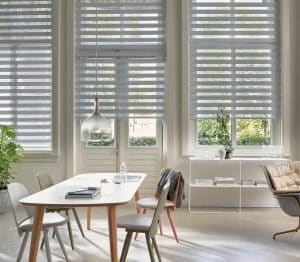 ClearView Blinds
But the Luxaflex designers have not stopped at producing a brilliant roller blind. They've developed Luxaflex Twist ClearView. Roller blinds which use gossamer-light sheers to ensure your view on the world is clear and sharp. The solid sections can be gently moved to overlap the ClearView sheer fabric bands so that view and privacy can be varied as your needs and moods change.
Manual or Automatic
Twists can be manually operated with a child-safe chain. Or for the ultimate in luxury, operated by the Luxaflex PowerView system so you can control your blinds at the press of a button. Or a command from your home automation system.
The Twist Roller Blind Design Story