"And the Best Window Shutter Installation Award 2019 goes to……The Scottish Shutter Company"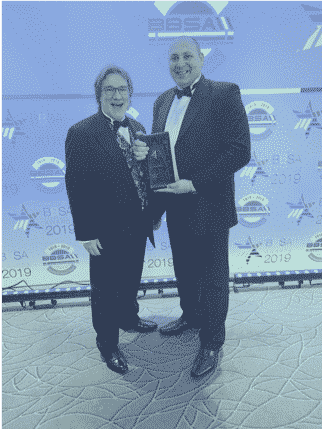 At the Belfry Hotel & Resort, Sutton Coldfield on Saturday 4th May, in front of a large audience of the movers and shakers in the window blind and shutter industry, we won the British Blind & Shutter Association (BBSA) award for:
Best Window Shutter Installation in the UK 2019
The installation we submitted was the one featured in an earlier blog on our site – Neil and Dorothy Furey's new house in Boddam.
https://www.scottishshutters.co.uk/custom-shutters-in-boddam-aberdeenshire/
We were absolutely delighted to pick up the Best Window Shutter Installation award amongst some very stiff competition. All of the finalists in our category were worthy of their nomination.
It's an outstanding award for us as the judging was carried out by our peers in the industry – it's like a players' player-of-the-year award, and we are so delighted to get this recognition from our industry.
It was a triple whammy for The Scottish Shutter Company as two of our strategic suppliers also picked up awards. Luxaflex®, our window blind supplier, picked up the Best New Product Award with their window blind motorisation system PowerView®.
We wholeheartedly agree with this award as Luxaflex® PowerView® is one of our key products, and David D'Ambrosio, our Technical Director, has become one of the leading experts in the UK in the installation and use of PowerView®
Our shutter supplier – S-Craft, also picked up the Best In-House Training Programme award, which shows that we are being trained by the best in our industry.
"Well Done" – Jeremy Strong
"Well done, guys" – Paul Murray
"Well done, David & crew. Well deserved" – Peter Shipperly
"Awesome – well done you gorgeous family" – Marie Cross
Congratulations! That's fantastic" – Brenda Murray
"Well done!!! X" – Susan Murray
"Well deserved…" – Martin Norbury
"Brilliant. Love the waistcoat too!" – Tim Savage
"Huge congratulations to you all, a well-deserved award, loving the waistcoat David xx" – Alana Duff
"Well done – much deserved and due reward for all the hard work and customer care" – Ken Stewart
"Congratulations!!!! So delighted and proud for you all!!!" – Maita Provido Crowe
"Well Done" – Jenny Brown
"Congratulations! Absolutely brilliant" – Moira Lumsden
"Congratulations, well deserved" – Freda Maguire
.