Custom Window Shutters: Boddam, Aberdeenshire
Dorothy Furye got in touch with us on a recommendation from a neighbour.
She asked if we could advise her whether it was possible to have custom window shutters fitted to her windows.
Some companies local to Dorothy had already told her that what she was looking for was not possible.
Neil & Dorothy live in Boddam – a coastal village in Aberdeenshire.
Boddam is a five-hour round trip from our Dundee showroom.
We scheduled an appointment for our Technical Director David D'Ambrosio to visit.
 David took over three hundred measurements
There were four tall side windows, one trapezoidal gable, and two patio doors requiring French Door cut-outs.  There was also a bedroom with two bay windows plus further rectangular shutters in various other rooms.
We needed to get the balance right between privacy yet still allowing good visibility of the beach and the North Sea beyond. There's a public footpath and road in front of the house.
The new-build property enjoyed excellent double-glazing. But the exposed nature of the property meant Neil had good insulation as of of the critical factors in his list of requirements from custom shutters.
The construction of the house sympathetically follows the traditional style of the area.  So it was also crucial that the shutters blended in with the property when viewing the property externally. Therefore, there was a pressing need for the shutters to match the paintwork exactly.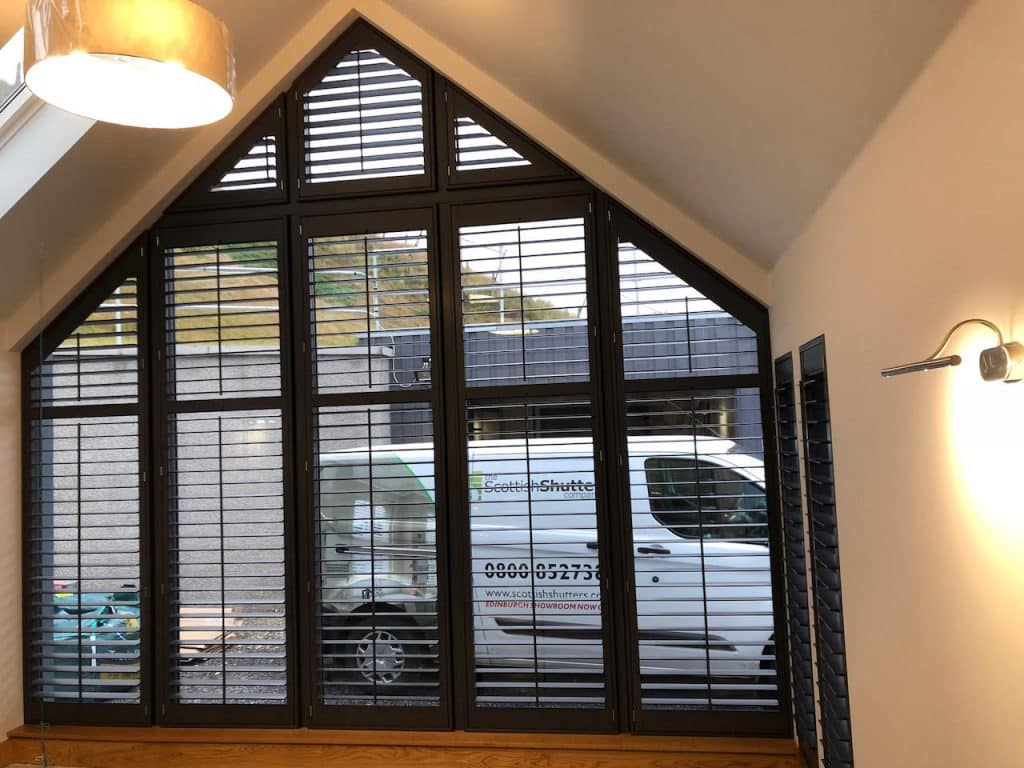 The Specification and The Design
Dorothy & Neil decided on a specification which was 89mm louvres in Fiji – a lightweight hardwood, with centre-tilt louvre operation.
Our ability to colour-match the proposed shutters exactly to their existing paintwork RAL colour was a real bonus for them.
We specialise in shaped shutters.
And in the twenty-plus years we have been supplying and fitting shaped shutters, we have never taken a paper template.
We always prefer to draw the shapes accurately on our in-house computer-aided design system.
We designed the shaped windows plus all the other windows and French door cut-out systems on our CAD system.
This ensured that we achieved both vertical and horizontal alignment of the shutters on each window.
Horizontal and vertical alignment of all the shutter panels in each room gives an aesthetically pleasing look. Whether viewing from inside or out.
Sadly, the shutter industry often ignores the importance of total alignment of all verticals and horizontals in shutter design.
We sent a full specification and quotation to Dorothy two days after David's visit.
In addition to the quotation, we sent a personalised video which introduced us to our clients.
And gave examples of some of our previous work which is relevant to the particular enquiry.
Dorothy had some questions which she emailed to us.
It was a Sunday. We're not normally open on a Sunday 💤💤😴🛌.
However, Judith called her from home immediately to answer her queries and finalise the specification.
Dorothy then placed her order.
.
The Installation (& the Lunch 👍😂)
On the day of installation, we had a four-person fitting team in two vans. Each team member worked on a specific room.
We completed the installation in seven hours.
Meanwhile, during the installation, Dorothy kept us all topped up with coffee and biscuits and provided us all with an unexpected but nevertheless enjoyable lunch!
After all the shutters were installed David D carried out a demonstration to make sure Dorothy & Neil were happy with the operation of all the shutters.
We also provided them with spare louvres for each panel so that louvres are on hand for us to replace easily should any damage happen in the future.
In conclusion, a real pleasure for us working with such lovely clients. And we won an award as a bonus.
We were delighted to get the following email from Dorothy & Neil.
Dear Judith and David,
We were nearing the completion of our new build in a Conservation area. We were looking for an option for our windows. The windows are a mix of a traditional sash and case design with full glass gable and tall portrait side windows. To take advantage of our beach view we thought shutters could be the solution. I spoke to a neighbour who had shutters a few years ago. She recommended the Scottish Shutter Company.
I called and spoke to Judith who was both helpful and knowledgeable and was reassured it was a long-standing family business.
David came to measure the windows. The time he took and his attention to detail during his survey was impressive. He also had working shutter samples with him that helped a lot in our decision making. David was very helpful and gave us the confidence in our bespoke choice of slate grey (RAL 7015)
I had a formal quote very quickly.  We decided to place our order with the Scottish Shutter Company.
Judith kept us updated.  Our shutters arrived as per schedule with no delays.
David and his 3-man teamed arrived early on the day of installation. I was very impressed that 7 hours later the whole house was fully dressed with the most beautiful quality timber shutters and blinds.
The team was excellent throughout the fitting.  They were very polite and courteous. All the shutters and blinds fitted perfectly. A full explanation of the shutter operation was given.
We would highly recommend the Scottish Shutter Company.  We are absolutely delighted with the quality of the shutters and the stunning finish it has given our windows.
Thank you
Neil and Dorothy