Living in a beautiful home is one of the pleasures we all strive for. When considering exactly what makes your perfect home interior, controlling natural light is one of the most important aspects. 
Enter the humble window shutter.
One of a suite of solutions for working with the light coming in both windows and doors, shutters are a delightful way to bring classic style and efficient light control into your home. But what will you need to budget for this elegant solution? How much do window shutters cost?
What Are Shutters?
It's important to know exactly what we mean when we discuss window shutters in a modern context. For many people, the idea of shutters conjures images of external window coverings, with Tudor ladies leaning out to push the shutters back to let in the light from the rose garden. Contemporary shutters are a little different, smoothly mounted inside the window to provide absolute control over the light.
Modern window shutters are luxurious and can be used alone or combined with curtains to provide a warm and inviting interior. They have many advantages, the greatest of which is their perfect-fitted nature, which allows for the absolute control of incoming light.
Curtains, long considered the primary window treatment, are excellent at bringing a sense of warmth and comfort to a room, but they leak light and are often unsuitable for unusual window shapes. In comparison, window shutters can offer near-total darkness where needed and can be customised to fit any window style.
Shutters bring wonderful light control and easy maintenance to kitchens and bathrooms, warm insulation and exquisite design to bedrooms, and the light level for movie night in living rooms.
Additionally, window shutters are incredibly durable and will last a lifetime if properly cared for, making them a worthwhile investment that will add value to your home. Many discerning homeowners turn to shutters for their distinctive design, impressive versatility, and long-lasting nature.
The Types Of Shutter Available
There are different styles of window shutters to suit your design. Consider the following:
Full Height
Built to cover the entire window in one piece, full-height shutters run from the top to the bottom of the window and have an impactful design that's most impressive in rooms with tall windows.
Tier on Tier
With separate upper and lower sections, tier-on-tier shutters provide a greater level of control, allowing you to open the top section fully while keeping the lower half closed for privacy.
Café Style
Café style shutters are a wonderful option to add character to your home. Half-height, a café style shutter is fitted only to the lower part of the window, allowing the full light to come in from the top.
Solid Panel
For the ultimate light-blocking shutter, why not look to the traditional solid panel shutter? Available in either full or half-panes, a solid shutter provides total privacy and light blocking and can be swung open for full light as needed — a wonderful choice for bedrooms.
The Range Of Shutter Materials
Originally, shutters were made from marble and placed in impressive Ancient Greek buildings. Today, we use materials that are a little easier to work with but are no less stunning to look upon.
Choose from:
Wood
Surely one of the most luxurious, warm, and comforting natural materials of all time, wooden shutters are a beautiful option sure to bring a timeless feel to your interior design. Wonderful in living rooms, home offices, and bedrooms.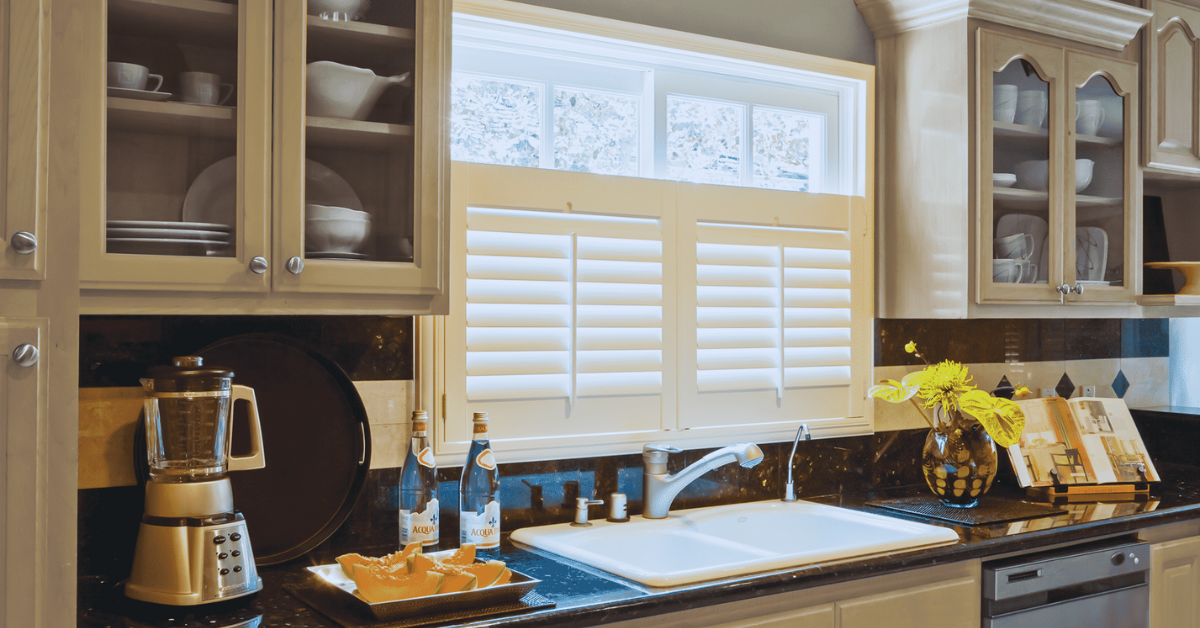 Aluminium
Durable, cost-effective, and lightweight, aluminium is an excellent lightweight shutter material that can be used for even the largest windows. Perfect for bathrooms, kitchens and security.
Vinyl
Vinyl shutters are waterproof, budget-friendly, and easy to maintain. With a natural wood look, vinyl window shutters are great throughout the house and a premium option for high-humidity environments such as kitchens and bathrooms.
So… How Much Do Window Shutters Cost?
The big question! With all the variables involved, it's almost impossible to know until a precise quote has been done. At the Scottish Shutter Company, we have over thirty-five years of experience installing custom window shutters for our customers. We can make a detailed estimate when we have all the information. The following factors are all taken into account:
The style of shutter

The materials

The size of the windows

Any special features, such as an awkward shape
Here at the Scottish Shutter Company, costs start at approximately £200 per square metre – it's just a rough estimate, but it should be enough for you to make some early budget decisions. Measure your windows today to get some idea of the total cost of your window shutters.
We know there are cheaper DIY options available on the internet, but beware! These are often made from poor-quality materials and may not be precisely cut. As with many things, you may save in the short term but find yourself with greater costs later on.
Properly fitted shutters are an investment. It's always worth going with a reputable company you can deal with face-to-face. When done correctly, window shutters will add value to your home, often recouping that initial investment and much more.
Getting a Detailed Window Shutter Cost Breakdown with The Scottish Shutter Company
If you are considering window shutters for your home, our brochure has all the information you need to help make those design decisions – get your copy here. Plus, for a comprehensive estimate on the cost of window shutters for your home, contact us today.