Virtual Appointments
Our virtual appointments are proving to be very popular and are in great demand.
The Undivided Attention of Our Experts
As with our private, closed-door showroom appointments, you're guaranteed the complete and undivided attention of one of our resident experts – David Browne or David D'Ambrosio. Each with a wealth of knowledge of window shading, and they even have certificates to prove it. They are both European Smart-Shading Organisation Certified Advisors.
Easy to Set Up
A virtual appointment is straightforward to set up.
Just call us on 0800 086 2989 or send an email to virtual@scottishshutters.co.uk and request your virtual appointment.
Images, Drawings & Window Schedules
It would be helpful if you could email images of your windows/doors before your scheduled virtual appointment. If you have plans, architects' drawings or window schedules, email these
as well.
That way, our experts can ensure that they have all the relevant information to hand for your call.
Multi-Platform Approach
We use several different platforms for your virtual appointment, such as Zoom, FaceTime and Whereby.
What Do Your Windows Do?
There are some questions that you may also be able to answer before the call, such as:
If your windows open, how do they open? Do they come into the room when they are opened, e.g. tilt and turn windows, or open outward, such as casement or hopper windows?
What Do You Want the Shading System to Do?
You might also want to consider what you want the blinds or shutters to do. This can often vary on a room-by-room basis.
The following is not an exhaustive list of the features that are possible. By understanding which features are more critical for each window, we will be better able to advise you on blind or shutter selection.
Privacy – to make sure no one can see into your rooms from the outside

Room Darkening – to help you or your kids sleep better on sunny mornings

Glare Control – to stop the sun from annoying you

Controlling Heat Loss in Winter – save on energy bills and keep your rooms warmer.

Controlling Heat Gain in Summer – stop your rooms or conservatory from getting too hot.

Sound Insulation – to soften the harsh room acoustic of modern rooms

Noise Reduction – reduce annoying noises from outside

Visibility of Outside when Blind is Deployed – shading that you can see through

Automatic Operation – at sunrise and sunset

Unattended Operation – as a security feature when you're not at home

Home Automation System – Alexa, Google and others can control your shades

Inward Opening Windows – challenging Tilt & Turn windows

Sliding Patio Door – for wide openings

French Doors – for doors that open to your garden

Unusual Shaped Windows – shading gable, triangular and round windows

Large Windows – those windows that are too big for conventional shading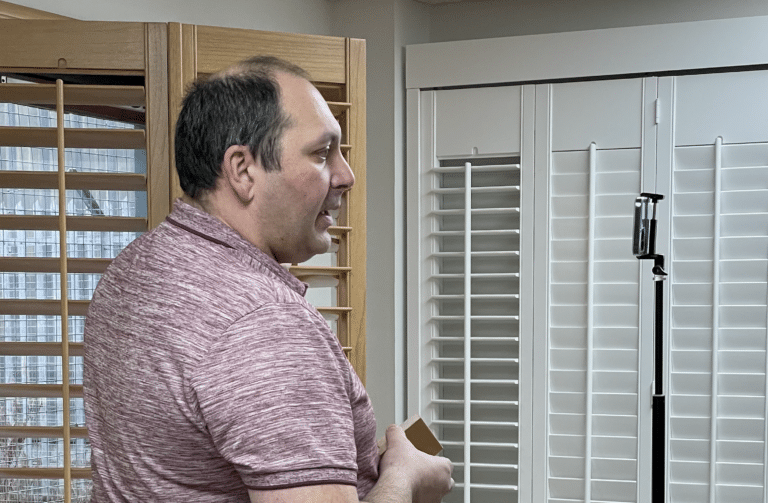 Understanding what you want your shading system to do on each window in each room of your home means you'll have the right product for the job.
We can help you with that. We've got over thirty-four years of experience helping people like you get it right the first time, every time.
The good news is that we have solutions for all of the above.
 What are you waiting for?
Set up your virtual appointment today by emailing your request to virtual@scottishshutters.co.uk or call us at 0800 086 2989.