If you've been doing your research into different options for shutters, it's more than likely that tier-on-tier shutters have popped up in your search. They give a stylish and classy look whilst offering maximum flexibility when it comes to light control and privacy.
But how much do they cost and are they worth it?
That's what we're here to answer. Read on for a full analysis of tier-on-tier shutters – what they are, what they're good for and how much they cost. So you can make an informed decision on whether they're the right shutters for your home…
What Are Tier-On-Tier Shutters?
When it comes to looks, tier-on-tier shutters look very similar to full height shutters. However, the small yet very significant difference is that they have two separate panels, one on top of the other. These panels function independently from each other, meaning you can have even more control over the light entering your room.
Tier-on-tier shutters offer the best of both worlds. Opening the top panels and leaving the bottom closed gives the look of cafe-style shutters, whilst keeping both top and bottom panels closed or open is the same as full height shutters. So you can change the style depending on your mood, the time of day and what company you have.
Where Are Tier-On-Tier Shutters Useful?
The complete flexibility of tier-on-tier shutters makes them a great option for all rooms in the house, especially those needing privacy at all hours of the day. By leaving the top panels open and closing the bottom you can enjoy the light flooding in whilst safe in the knowledge that no one can see in.
This is great for bedrooms or the bathroom. Closing your curtains or blinds and turning on the lights every time you want to get changed or showered can be a real hassle. These shutters offer a great solution to this and even enable you to enjoy the view whilst showering.
They are particularly popular for ground floor, road-facing windows, again because of the option to let the light flood in through the top panels whilst maintaining privacy keeping the bottom panels closed.
Tier-on-tier shutters are a stylish and elegant option for larger windows such as bay windows. When used in a bay window, you can effectively treat each window in the bay as a separate shutter and panel. So you can pick and choose which panels within the bay to leave open or closed. They are also very useful for sash windows as they provide easy access to open and close where a full height shutter could be less convenient.
Benefits
Light Control
We believe that tier-on-tier shutters offer the best option on the market when it comes to light control. Being able to open and close each panel independently, as well as open and close the slats, gives you complete versatility.
Insulating
Large windows are great for letting the light flood in. And for the lucky ones with a view, a large picture window can be a real feature and help to bring the outside in. However, the larger the window surface, the more heat will be lost through it in the colder months. And the more the sun can pour through in the summer months, the more your living room will resemble a sauna.
Window shutters are a great solution for heat loss, helping to insulate the room and also protect it from the sun's rays.
Soundproof
Though the majority of windows these days offer a good level of soundproofing, window shutters can provide an extra barrier against any outside road noise, helping you to get a better quality night's sleep. Wooden shutters in particular give that added protection against outside noise.
Add Value To Your Home
Cost may be a worry for you when it comes to tier-on-tier shutters. Any quality wooden shutter is going to be a more expensive option than your standard curtain or blind. However, the stylish look, energy efficiency and durability of shutters can increase the appeal of your home, and therefore add value to it, helping to offset the cost.
Accommodate Awkward Furniture
If you have a large window with full height shutters, fully opening the panels can be inconvenient due to the amount of space required. This can be particularly difficult if you have large pieces of furniture and not enough space to accommodate them around full height shutters. Tier-on-tier shutters offer a great solution to this problem, as even if you don't have the space to open one of the panels, you can still open the others around it.
5 Year Guarantee
Here at The Scottish Shutter Company, all our shutters are guaranteed for five years. So if you have any problems with them, you can rest assured that your investment is protected and we will be ready to help you solve any problems you have.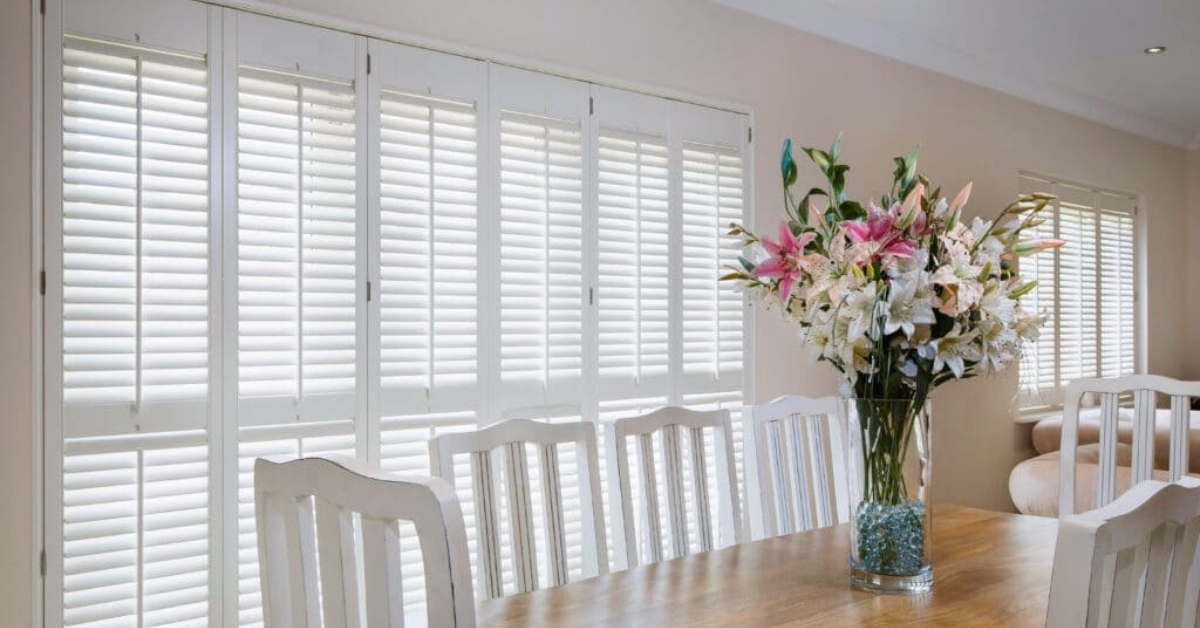 Any Cons?
We've struggled to find any cons when it comes to tier-on-tier shutters. However, we wouldn't usually suggest them for smaller windows where they may be overpowering due to the amount of wood framing involved around the panels. For smaller windows, the less frame the better, so a full height shutter offers a better solution.
Cost
We know what you're thinking! We've covered numerous reasons why we believe tier-on-tier shutters are great, yet we still haven't answered the question of how much they cost.
Unfortunately, it's not that simple as there are so many factors involved in the cost of shutters. Material and size are two major ones, but the cost will also depend on whether you decide to go down the DIY route or choose to get your shutters installed by a professional. 
As a general guide, tier-on-tier shutters will cost from around £200 per square metre.
Here at The Scottish Shutter Company, our quotes are completely transparent. No hidden installation or design fees. So you can rest assured that the price quoted is what you pay. And that includes the full works! One of our experts will measure, design and install your shutters and even show you how to use them.
Are They Worth It?
Though tier-on-tier shutters will set you back more than many of the other window coverings out there, you can be sure that you are investing in something that is made to last. The money they can save you in terms of energy consumption and replacement costs, plus the value they add to your home, will more than offset the added cost. 
We believe the elegant style and complete flexibility tier-on-tier shutters offer make them well worth the cost. But don't just take our word for it – you can check out the full range we have available here or book an appointment to visit one of our showrooms.
As a BBSA-accredited company, you can be sure we'll provide you with expert advice.