Bay windows make for a stunning feature for any room. 
Not only do they look majestic, but the huge panes of glass let tons of natural light flow into your most treasured spaces and ensure you feel immersed in the outside, even when you're standing indoors.
It can be challenging to find appropriate window coverings for bay windows because of their size. But have you ever considered shutters for a bay window? 
Here's why we think it's the best choice for anyone with a bay window.
The Different Types Of Bay Window
Bay windows protrude from the flat external wall of a property, therefore creating an alcove inside, or a bay. The set-up usually consists of a central set of windows with two or more lining either side.
Although we use it as a generic term, 'bay window' actually describes several different window designs.
Splay
Splay bay windows are typical of many UK homes, made famous by Victorian terraces. A splay features three window units. The central unit is the widest and runs parallel to the external wall of the house, and smaller angled windows sit on either side. 
Circular
Like a splay bay, the main window of a circular bay sits parallel to the external wall. The difference here is that a circular bay involves two or more angled units at both sides, and this is what gives this style its circular shape. 
What Are Bow Windows?
From the outside, a bow window looks similar to a circular bay. But unlike a circular bay, a bow window only projects from the property from window sill height upwards, and so offers no floor space. 
Window Treatments For Bay Windows
With multiple window units and various angles to take into consideration, dressing bay windows can be challenging. So what's out there?
Curtains
Available in monumental varieties of colour, pattern and style, curtains for bay windows are certainly a cheap fix that can cheer up a room. But they present several issues.
Either the curtain is installed to run along a straight pole across the bay, completely removing the feature from view. Or, to preserve the stunning angles and optimum floor space of a true bay window, you must use a fiddly and often unsightly angled track which makes opening and drawing the curtains awkward and can lead to broken mechanisms.
Blinds
If you're considering installing blinds for a bay window, you'll need individual blinds for each pane. And that can be a right pain (excuse the pun!) to open and close to alter the light levels.
However, if you do opt for blinds, the most popular styles for bay windows are:
Roller blinds, where a single piece of fabric is wrapped around a casing and operated by a cord, chain or wand. These are inexpensive and versatile but don't provide much of a range of control. You're either in full privacy with them shut, or enjoying natural light with them open.

Venetian blinds have horizontal slats made from plastic, aluminium or wood. Because the slats are held together by cord or fabric, they can be tilted in unison to control light levels as well as fully raised or lowered.
Shutters
Shutters for a bay window provide both a functional and sleek solution to dressing the room and shading your space. Window shutters consist of a frame filled with either louvres or a solid panel, and can be constructed from wood, faux wood, plastic, MDF and vinyl depending on the style. 
Opting for shutters for a bay window works well because when open, shutters don't obstruct the view whatsoever. Instead, they work with the space available and make for a visually stunning result. 
Let's look at the most popular types of shutters for a bay window…
Shutters For A Bay Window
Three styles of shutters work particularly well for bay windows.
Tier-On-Tier
This style of shutter is made from two or more independent louvred panels that cover the whole window. With the ability to adjust each panel individually, you're given complete light and privacy control.
Full Height
As the name suggests, full-height shutters cover the whole length of the window from top to bottom. This provides incredible privacy from the outside world, and the louvres can be titled to filter maximum natural light. 
Cafe Style
Cafe-style shutters cover only the bottom half of the window and beautifully balance light and privacy control. The louvred panel that sits at the base of the window protects you from the outside world, and sunshine can stream in from above.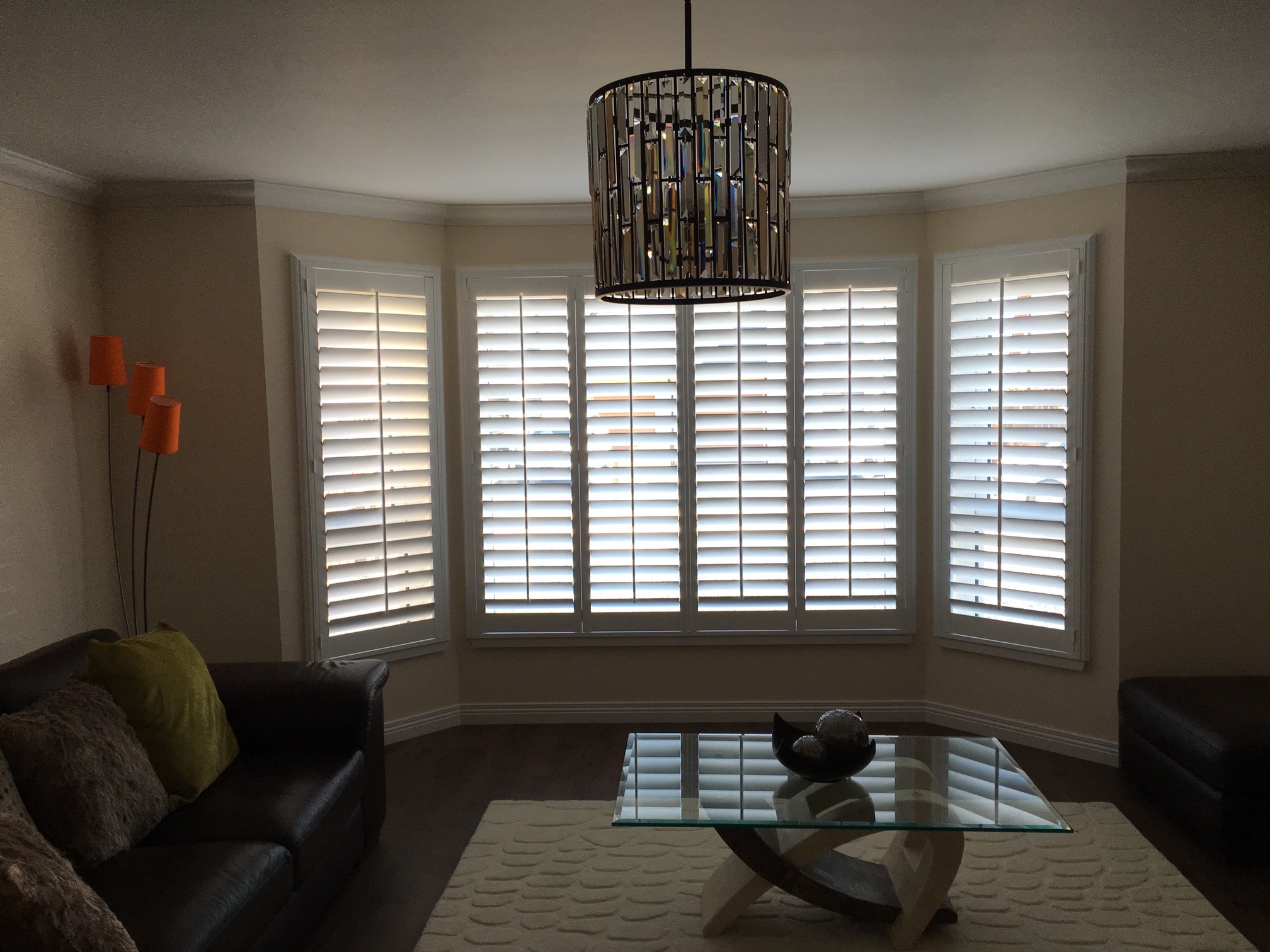 How Shutters For A Bay Window Can Transform Your Space
Here's why you should consider choosing shutters for your bay windows.
Light
Bay windows are an incredible feature that let in an exquisite amount of natural light all year round. Opting for louvred shutters for a bay window takes maximum advantage of this by providing unbeatable light control as you adjust the slant of the louvres throughout the day.
Privacy
Where curtains and blinds are either open or shut, shutters provide the utmost flexibility in privacy. Even open louvres keep you in your perfect home bubble away from the outside world, without compromising on light levels. 
Energy Efficiency
Shutters have been found to reduce heat loss in the winter months by up to 64%. Not only do they bring down those energy bills, but they reflect the heat of the sun in the summer, too.
Soundproofing
Noise pollution can be hard to live with. Made-to-measure shutters sit tight against your window frames to create a high-performing, absorbent barrier against such sounds, significantly reducing overall noise levels. 
Aesthetics
Without a doubt, shutters create an incredible visual. Sturdy, sleek and flush against the window, shutters enhance any window they adorn by creating clean lines and can come in a range of designs to suit any room.
Add Value
Buying shutters for your property is an investment that comes with many benefits. Should you ever choose to sell up and move, shutters will add value to your market price. Why? Because of all of the benefits we've listed above. Shutters look amazing, are highly functional and work hard for your home.
Getting Shutters For Bay Windows Right
We heavily advise that you do not attempt to install shutters for your bay window yourself. 
With angles and multiple windows to take into consideration, it's a complex job, so bring in the professionals. 
When you choose to use an expert shutter supplier and fitter, they will take all of the critical measurements and do the maths to make sure you end up with a set of shutters that fit and work perfectly. And, of course, you'll benefit from their extensive experience and knowledge that will get the job done quickly and smoothly.
Here's what a lovely customer has got to say about their experience using the Scottish Shutter Company…
"We are absolutely delighted with the shutters this company installed in our home – which, btw included bow windows in two lounges and our bedroom. The result looks stunning, makes the house feel cosier on cold winter evenings and has reduced our heat bills as a result. In honesty, most of this had to do with the excellent preparation work David did when he came to measure up the window frames: bow windows in 193x properties are never symmetrical, but he was meticulous in his measurements, and that can be seen in the finished product. We initially had another company estimate for the job, and yes, they were cheaper, but I had much more confidence in David and Judith, and our gut served us well. Communication with Judith and Francesca was excellent, and on installation day, the team (Leon and his colleague) were polite, courteous, informative and tidy in their workmanship. The whole experience has been a pleasure."
Tracey McKean
Make The Most Of Your Bay Windows
Shutters for bay windows are a fantastic solution that will enhance your bay windows and deliver optimum light and privacy control, all year round.
Looking for a professional shutter company without the pushy salespeople? You've found it! Download our brochure and see what we've got to offer.