The new S:CRAFT aluminium Portchester Security Shutter range delivers safety and style in equal measures.
Think window shutters but with an additional layer of security.
Our stylish Portchester Security Shutters are for your home. They should not be confused with roller security shutters which are used on shop and commercial premises.
Portchester Security Shutters from £3,200 (For a typical 2100mm x 2100mm patio door). 
Stylish Looks Under Lock and Key
The beauty of our Portchester Range is that you get security for your home but without your house looking like Fort Knox. No steel bars or gates. Just regular-looking window shutters but with the added benefit of security. Now there's no need to compromise on elegance when you want to protect your home.
While the Portchester Security Shutter range looks just like our standard elegant plantation shutters, there's one clear difference. You also get a secure lock and key.
Manufactured in South Africa
The Portchester range is designed and built in South Africa. A country where home security has to be the best. Portchester Security Shutters are designed with both protection and good looks in mind.
An Alternative to Grilles, Gates and Metal Bars
By installing Portchester Security Shutters, you have an elegant alternative to installing heavy traditional security grilles, roller shutters or burglar bars.
Grilles and metal bars may look to a burglar to be a deterrent. However, they aren't the perfect solution.
Security grilles and shutters often block out the light and look severe and industrial.
Security Shutters That Look Just Like an Interior Window Shutter
Portchester Security Shutters are different. They operate just like our other interior window shutter ranges. The Portchester range is available in most styles, including full-height, hinged, bi-fold and bypass. They make excellent room dividers and are perfect for patio or conservatory doors.
Hidden Tilt Mechanism
There's a hidden tilt mechanism so that you can operate the louvres by hand. This provides you with a sleek, modern design with elegant contours and clean lines.
Leave Your Windows Open at Night
When the panels are securely locked, the louvres still work as before. But the panels can't be opened. This means you can leave your windows open at night. Or protect a more vulnerable window or room in your property.
Stylish Yet Robust Security Shutters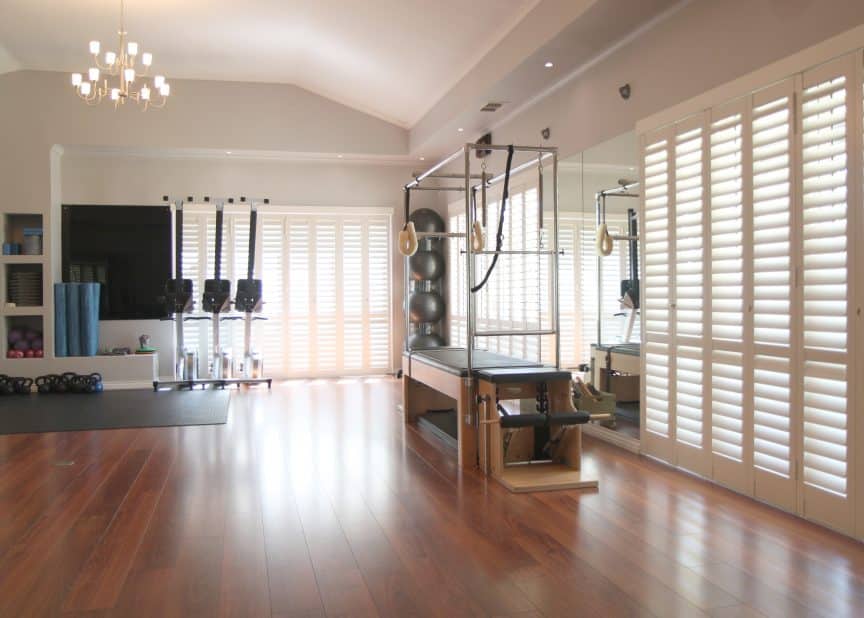 Portchester shutters provide an elegant yet robust additional layer of protection to your home.
Portchester shutters provide beauty, alongside intruder-resistant aluminium and a patented lock system. They blend aesthetically with our non-security shutters. This means you can maintain a consistent scheme throughout your home.
Made with Architectural-grade aluminium
Portchester shutters are robust, durable and extremely tough. They are manufactured in South Africa, where security is critical. Portchester Security Shutters have a patented Italian locking system with a double turn key. This key operates the locking bolts that secure the shutter's top and bottom.
Portchester shutters give you an additional layer of security without compromising on style.
Ideal for Both Indoor & Outdoor Use
Portchester shutters are resistant to corrosion, perfect indoors and outdoors, and hard-wearing.
Internally fitted Portchester Security Shutters look like stylish plantation shutters when viewed from the outside. They are an appealing alternative to security grilles, bars, rollers or gates
Portchester Security Shutters will provide you with an exterior layer of protection against the elements when fitted externally. This is ideal for exposed properties and also works well on patio doors and pergolas.
Privacy, Light and Temperature Control
Like all our shutters, Portchester Security Shutters provide you with total privacy, ultimate light and temperature control, and increased kerb appeal.
Watch Someone Trying to Break In Through Portchester Security Shutters

Key Features of Portchester Security Shutters
The louvres are 89mm
Available in Satin White, Light Grey and Charcoal
Silent Tilt – meaning no visible tilt rods
Patented Italian Strip-Proof Lock – with a double key turn which operates the locking bolts to securely fix both the top and the bottom of the shutters simultaneously,
Five-Year warranty for shutters installed internally (three-year warranty for externally fitted shutters)
Master Key or Multiple Keys option
A top and bottom powder-coated guide system which is intruder resistant to prevent your security shutters from being lifted out of their channels
A locking system which you can access from both sides of the shutter is available as an option if required.
A beautiful window treatment that serves the dual purpose of a burglar system and a blind or curtain
Aesthetically pleasing, without compromising on security
Adjustable louvres to control light privacy and ventilation
We make Each shutter is custom made to fit your windows and doors
Specifically designed to be a close match with our non-security shutters
You can mix security shutters and non-security shutters in your home while maintaining a consistent look and feel
Louvres can remain open once the shutter panel is locked.
10mm locking rod, comprised of 6mm steel encased in nylon
Durable long-term finish with no colour fading
A hard-wearing finish which is resistant to scratches and bumps
Portchester Security Shutters
We can mail a Portchester Security Brochure to you: