Vinyl, wood, plastic – oh my! There's a whirlwind of choice out there when it comes to shutter materials. The big question is, which should you choose? How do you know if plastic or wooden shutters will be the best choice for your home? Which material works best in different situations? There's a lot to consider, but don't be discouraged from doing your research.
All you need, to be in the know, are some of the key benefits and drawbacks of these popular shutter materials. That way, you can make an informed and confident decision that will keep your house proud for years to come!
Here are the pros and cons of vinyl and wooden shutters to help you make your choice…
What Are Vinyl Shutters?
When people refer to vinyl shutters, they mean shutters made of plastic. There are lots of types of plastic and methods of manufacturing that can impact the way plastic behaves and appears. 
When it comes to shutters, they're often made out of PVC or solid ABS like our Java range. 
PVC is a slightly more flexible plastic, whereas ABS is extremely tough. ABS plastic is often used in humid areas like wet rooms, swimming pools, and even on motorbike helmets!
So, plastic shutters are useful in specific locations and situations. But are they the best choice for you?
Why Vinyl Shutters Are Popular
In rooms like bathrooms and kitchens, where there is a high chance of daily temperature changes, humidity and liquid splashes, vinyl shutters appear to be a winning choice.
This lightweight and versatile material has taken the shutter world by storm, primarily due to its functionality in a modern home. Not everyone has time to regularly clean and maintain their shutters, and vinyl is just oh so forgiving.
They're water-resistant (more on that later), making them an apparently ideal pairing for kitchens, bathrooms, and even messy playrooms. What isn't there to love about vinyl shutters?
Plastic Problems
Being waterproof is one of the most significant selling points for plastic shutters. If you want to get down to the technicalities, then vinyl is waterproof… but vinyl as an assembly of components is not waterproof.
Water can seep into poorly made plastic shutters because construction usually consists of hollow plastics with a cap on the bottom. Moisture can get between these pieces, and in some cases, the worst can happen – they go mouldy on the inside. 
Hollow vinyl is also an extruded product, meaning there can be scratches on the surface or lines where the plastic cools after it is manufactured. This doesn't always offer a flawless finish. 
If you want to match your window frames with UPVC, you might encounter another problem – UPVC can yellow over time. You can get a UV-resistant coat to prevent yellowing, but sadly nothing is ever wholly UV-proof.
So how does wood stack up against vinyl?
What Are Wooden Shutters?
Wooden shutters probably come to mind when you think of traditional, solid panel or cafe-style window shutters. If timeless class, elegance, and durability are a priority in your home, wooden shutters would fit in beautifully.
Wooden shutters can be found in a huge range of wood types and colours, meaning there will always be a wooden shutter that matches your space and style.
High-quality wooden shutters are an unbeatable addition that will add value and kerb appeal to your home. 
Why Are Wooden Shutters Popular?
Wooden shutters have several main benefits that make them so popular with our customers. 
Firstly, they can be made to fit any shape or size of window, whether arched, angled or just plain awkward. And because they can be made in a wide variety of shutter designs, you have ample choice.
Wooden shutters give off a naturally warm and elegant look. This makes them a useful decor piece in any room, not just a functional window covering.
And let's not forget that wood is an incredibly strong material, making it the best choice for long expanses and wide windows without needing extra support.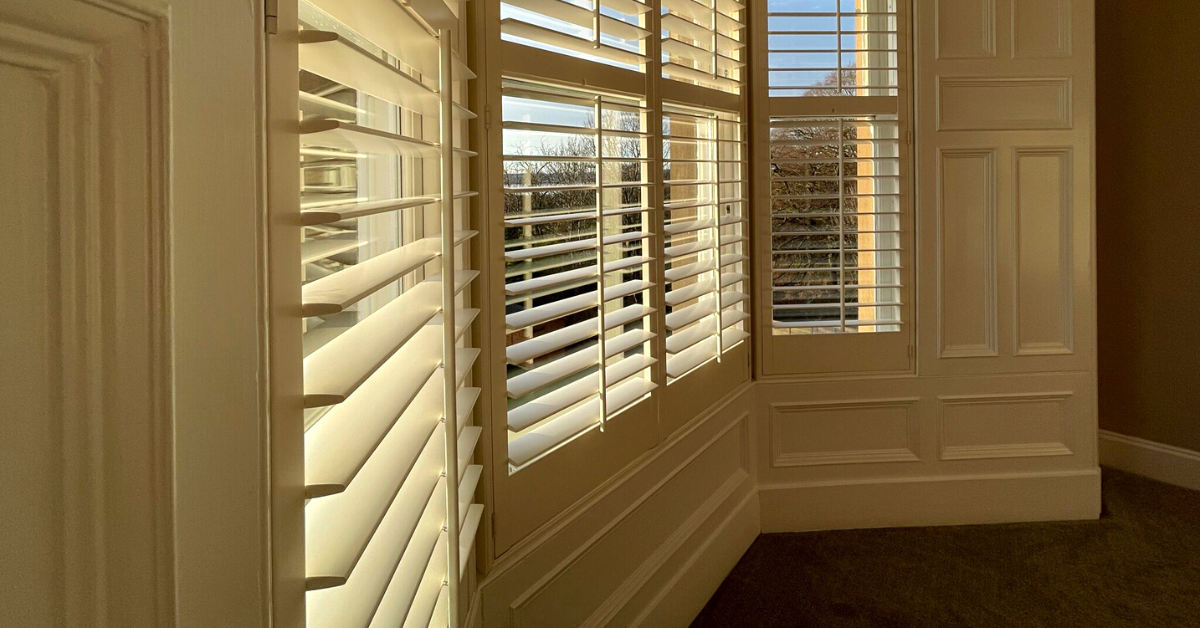 Wooden Shutters Downsides? 
High-quality wooden shutters are stylish and long-lasting – giving you a long-term solution that will keep adding to the enjoyment of your home for many years to come. 
But when you purchase wooden shutters, it's essential to know how they've been treated and what kind of maintenance they will require. While wooden shutters are the superior choice, not all wooden shutters are created equal. 
Cheap or poorly manufactured wooden shutters won't last as long and will need more maintenance as time goes on. 
Also, as wood is naturally absorbent if untreated, poorly finished wooden shutters aren't always the best idea in humid bathrooms or utility rooms. They may end up warped or discoloured.
The Ultimate Faceoff: Which Is Better?
So now you know the good and the bad about both vinyl and wood shutter options; the choice is up to you. 
But the first step is choosing a shutter company that will provide you with only high-quality, made-to-measure shutters. That way, whether you choose vinyl or wood, you can be sure you're receiving reliable and guaranteed shutters that won't fall prey to the material's respective common issues.
The rest depends on your unique requirements, your budget, and your style.
The More You Know
Ultimately, the key thing to remember when choosing your shutter material is that it needs to work for you. Arm yourself with all the knowledge you can find about vinyl and wood options. You'll be much more likely to make an intelligent choice that will benefit you and your home. 
If you'd like to hear which material a shutter and blind expert would recommend for you personally, get in touch here to talk to our friendly team.