It can feel like the options are endless when you're shopping around for window coverings. Blinds or shutters? Energy-saving or child-safe? Is privacy your priority, or noise reduction?
The market can be hard to navigate if you don't know much about it. This blog is designed specifically to clue you into light control, one of the main factors customers consider when buying window coverings. 
Cue the tier-on-tier shutter.
What Are Tier-On-Tier Shutters?
Sometimes known as double-hung shutters, tier-on-tier shutters cover the whole window but have independently opening top and bottom panels, making them both a practical and stylish choice.
Enabling you to open or shut either the upper or lower panels, tier-on-tier shutters provide a level of adjustability that you don't find with any other window covering. Unlike full-height plantation shutters, tier-on-tier shutters balance privacy and light beautifully, making them a popular choice in the modern home. 
How Do Tier-On-Tier Shutters Help With Light Control?
Unlike other window dressings and even other styles of shutters, tier-on-tier shutters provide full light control flexibility. 
Independent top and bottom panels, each with their own set of adjustable slats, means tier-on-tier shutters can adapt to suit the needs of your room throughout the day.
With the beautifully crafted shutters' top and bottom panels open, you can make the most of the view and soak up the feel-good rays. If more privacy is required, you can leave the lower panels closed and enjoy the maximum light flow, minus the glare, through from the open top panels. 
Tier-on-tier shutters mean you can watch television without the sun spoiling your fun, or make the most of the summer breeze without forfeiting your privacy.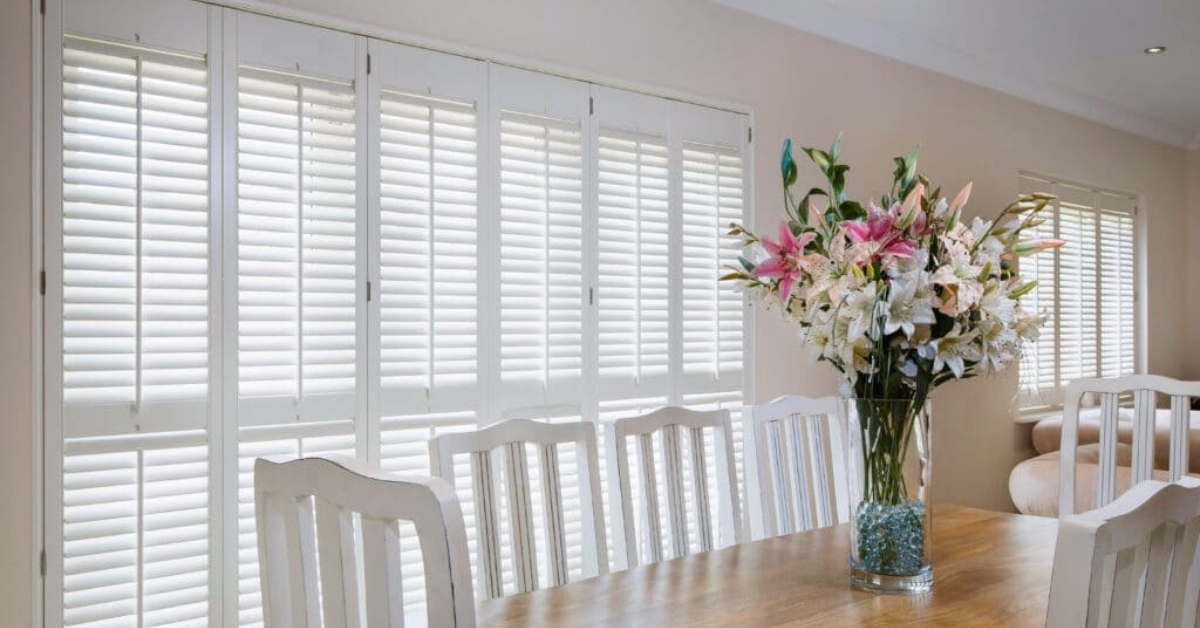 Which Rooms Are Suited To Tier-On-Tier Shutters?
Tier-on-tier shutters are extremely versatile. The privacy control of the multiple-section design makes them the perfect solution for bedrooms and bathrooms, as well as ground-floor properties and roadside rooms.
Dining rooms, offices and lounges, and any areas that experience strong levels of sunlight can benefit from the superb light-blocking ability of tier-on-tier shutters, whilst making great use of the ability to control the light levels throughout the day. 
Thanks to a wide range of durable designs and finishes, there is a tier-on-tier shutter for every room of the house. They can even be made from waterproof materials, meaning they can sit happily in rooms where humidity might be a problem, such as bathrooms, laundry rooms and wet rooms.
What Type Of Windows Are Tier-On-Tier Shutters Used For?
From stunning Victorian sash windows to impressive modern bays, tier-on-tier shutters can be fitted to any window of your home. 
Using tier-on-tier shutters alongside sash windows means you can easily open just the lower panel to slide your sash window up. And, for double-hung windows, the innovative shutter design means the upper-tier panel can be open alongside the top sash window. This combination maintains eye-level privacy whilst allowing fresh air to circulate and maximum light levels to flow. 
Tier-on-tier shutters are not recommended for very small windows because their strong composition can block most of the light.
How Much Do They Cost?
Where they used to be a more expensive option, all types of shutters are now a highly competitive window dressing option. Multiple configurations and a range of materials, colours and slat sizes mean tier-on-tier shutters can range in price and therefore suit most budgets. 
How Long Do They Last?
Tier-on-tier shutters are an extremely durable and resilient window dressing option, lasting for years to come after expert installation.
As with all shutters, maintaining them is easy and a big selling point. Running a dry cloth over them to remove dust is the perfect way to keep them looking beautiful, and they can be wiped down with a damp sponge if necessary. 
A Smart Choice For The Modern Home 
The versatility tier-on-tier shutters afford you is unrivaled by any other window covering in the market. 
Beautifully crafted, the independent panels provide full control of both light and privacy whilst complementing a variety of home styles. 
Think tier-on-tier shutters could be the perfect solution for your own home? Book a consultation with our friendly experts today.