No house is perfect. And if you're a homeowner, you're likely in the endless home improvement process.
Investing in enhancing the look and function of your surroundings is one way to upgrade your home, but other factors can seriously impact how we feel when we're there.
Spending much more time at home over recent years might have highlighted how annoying and distracting excessive noise can be. Noisy neighbours, busy roads and construction can truly disrupt your work, sleep and leisure time. 
So what can you do about it? How can shutters help you soundproof your home?
Do All Window Coverings Help?
To some extent, something covering your windows is better than nothing.
But picture a pair of draping curtains or your standard lightweight blinds, and it's easy to see how little help they provide in minimising the outside clamour.
Because of their flimsy and loose-fitting construction, curtains and blinds generally do not provide enough of a barrier to make much difference.
Noise Pollution Is Bad For Your Health
A more peaceful atmosphere within the home, where you can escape the hustle and bustle of the outside world, is essential to your well-being.
When you are routinely exposed to excessive noise, it can disrupt your sleep, keep your body in a state of constant stress and incur negative psychological effects. In turn, this can worsen your health and performance at work and school, perpetuating the cycle. 
Living in noisy areas is unavoidable for many people, and replacing windows can be unrealistic. So what is the solution? 
This is where shutters come in.
The Sciencey Bit – How Shutters Reduce Noise
Take wood shutters, for example. 
According to Make It Wood, trees have a molecular structure that insulate most forms of energy. This includes heat, cold, electricity and – you guessed it – sound. Wood has microscopic pockets of air that reflect the sound vibrations back on themselves, reducing the volume of sound waves that reach your ear.
In plain terms? When you have real wood shutters, the material itself is filtering the sound outside of your window. They also cushion the internal sound coming from the room, allowing for a softer acoustic and a peaceful home environment.
And it's not just shutters. Our honeycomb-shaped Luxaflex Duette blinds are designed with these same air pockets in mind, greatly reducing the interference of outside noise pollution in your home. 
Shutters Are Versatile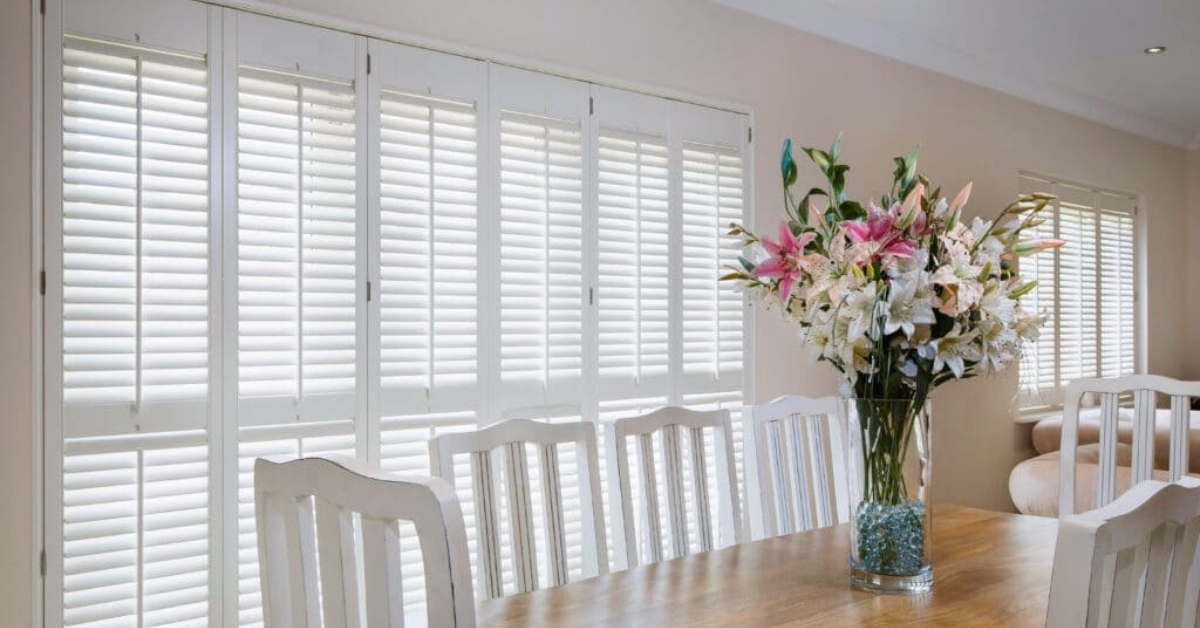 The hustle and bustle outside changes throughout the day. Though it is usually low-frequency noise from passing traffic coming through your windows,, it can also be of higher frequency as excited revellers leave your nearby local pub late in the evening.
Regardless of frequency, the beauty of shutters is that you can be in full control of how much noise enters your home space.
Want to let in a bit of light or air without adding a chorus of vehicles or passers-by? Depending on the style you opt for, the easy-to-adjust louvres of many shutters enable you to achieve the perfect balance of privacy, light filtration and sound control.
Which Shutters Work Best?
Though all shutters reduce noise effectively, some work better than others because of how they work.
Solid Shutters
Sometimes referred to as Victorian-style, these shutters are completely solid, wooden panels that can either be completely shut or wide open. 
Solid shutters are not louvred. Whilst this limits their adjustability, it makes them the prime option for limiting outside noise. With no gaps for noise to enter your home, solid shutters are the perfect option for homes in areas of high noise pollution.
Cafe-Style Shutters
Cafe-style shutters are stylish and a popular option for the modern home. This shutter style leaves the top of the windows exposed, allowing plenty of light and privacy at the same time. 
Though they tick the aesthetic box, they aren't an efficient go-to for creating serenity in your living space because you cannot fully close them. 
Full Height Shutters
Like louvred shutters but after more privacy and better noise reduction?  
Full-height shutters hand you control over both. These shutters cover the entire window and are fully adjustable, meaning you can choose exactly how much light (and noise) is let in through your windows.
Easy to install, full-height shutters are one of the most popular choices for people upgrading their window coverings.
Tier-On-Tier Shutters
For those loving the style of cafe-style shutters but want increased privacy, light control and noise reduction, tier-on-tier shutters are the number one option. 
Tier-on-tier shutters are comprised of two separate sections, meaning you can keep one half open and the other closed. Unlike cafe-style shutters, you can fully close them, efficiently blocking out the hubbub of the outside when it gets too noisy.
Choose Shutters To Reduce Noise In Your Home
Windows allow a lot of unwanted noise to penetrate your home. Rather than replacing windows with double or triple-glazed panes, fitting shutters can provide substantial protection from external sound pollution.
From arguing neighbours to local students home from a night out, from train lines to rush hour traffic, shutters maintain peace and quiet in your home much more efficiently than blinds and curtains.
Of all the different designs available, solid shutters provide the utmost soundproofing ability. Though they are a more expensive option, solid shutters are easy to attach over windows, work brilliantly to reduce outside sounds creeping into your home and are a statement piece in all room designs.
Interested to see the various types of shutters in the flesh? Sometimes it's hard to imagine what they might actually look like in your home. Arrange an appointment to visit one of our  showrooms with one of our friendly team and find out what options might work for you.