DIY Window Shutters, Plantation Shutters & Shutter Blinds
If you're a competent DIYer or you have access to someone with joinery or home installation skills, then our DIY shutter range might just be for you. It's a less expensive way of acquiring plantation shutters for your windows. You'll get the same top quality shutters that we use in our complete measure, supply and fit service but at a lower price. Your shutters will still be custom-made to fit your windows perfectly.
Of course, nothing will beat having your shutters professionally measured and fitted, but DIY is possible for most windows.
We Don't Expect You to Make Your Shutters 😂
To be clear, DIY shutters means that you take responsibility for measuring and installing the shutters. The shutters and frames are still made for you at our factory, very precisely to your dimensions.
It's also an excellent way to purchase shutters if you live in a remote area and you're looking to have shutters on just one or two windows.
We have DIY shutter clients as far away as the Orkney Islands. We were able to help them measure and design some shutters that they fitted themselves or got their local joiner to fit – using our instructions.
We have over thirty years' experience of measuring, designing and fitting shutters, so we're best placed to help you if you want to go it alone. We design all our shutters here in Scotland on our in-house CAD system, so we can send you a drawing of your actual shutters to approve before we start to manufacture your shutters.
Measuring & Designing DIY Shutters
The easiest way to do this is to send us some pictures of the windows you'd like to have shutters on plus some very rough sizes. Don't do anything dangerous. Don't get on a step ladder or stand on anything other than the floor to take these measurements. Often our clients send us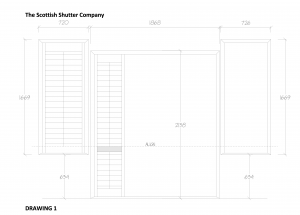 the pictures first. Then we can determine if DIY shutters are possible or whether the window shape, type or method of operation would require our professional measure service. You can send your pictures to
or you can call our DIY Hotline 01382 761049
DIY Shutter Installation
The actual installation of shutters is relatively straight forward. The most crucial part is the measuring. Even for the simplest window, our survey teams would take at least fourteen measurements.
But we can guide you through the process. From helping you understand what and how to measure to arranging the delivery right to your home. We can provide guides to help with the installation itself.
This is not an order and ship service, we're real shutter professionals. We've even won awards for our shutter installations. We'll talk you through every step of the way.
Quoting
Once we have a rough idea of what's required and whether we believe it to be a DIY job, we'll send you a written quotation by email. If you want to go ahead or have any questions, then just get in touch either by email or by phone.
[email protected] – or you can call our DIY Hotline 01382 761049
Terms & Conditions
We warrant that our shutters will be defect-free in materials or workmanship.
The shutters and frames must be installed correctly and made or assembled exclusively from original components or materials. Resale or transfer of the product and/or materials voids this warranty.
As shutters are handmade, there may occasionally be small defects on the shutter panels and frames. Should this scenario arise, The Scottish Shutter Company will be happy to review such panels. If the defect is so minor that it doesn't affect the performance of the shutter or can't be clearly seen two metres away, then this will not constitute a defect.
This warranty is exclusive and in lieu of all other obligations, liabilities or warranties. In no event shall The Scottish Shutter Company be liable for incidental or consequential damages. Or for any costs associated with such damages. Repair or remakes of defective products is the sole remedy under this warranty and in no event shall The Scottish Shutter Company be liable for costs to remove or re-fit the shutters. Repairs will be made only with like or similar parts. This warranty does not include shipping charges, or the cost of labour involved in measuring and installing.
This warranty does not cover any condition of or damage to the shutter or window, from unauthorised repairs, accidents, alterations, misuse, abuse, an act of God, motorised devices, wear and tear or failure to follow our instructions concerning measurement, installations, cleaning or maintenance. Improper, inappropriate or unauthorised replacement parts, repairs or maintenance voids this warranty. This warranty excludes all liability for removal of the shutter and reinstallation in the same or another window, or damage to the window frame, glass or any other portion of the window.
Due to variances in manufacturing, natural variations in colour, grain and texture in these products, The Scottish Shutter Company is not able to guarantee exact matches to samples. The Scottish Shutter Company is not able to guarantee exact colour or shade matches on subsequent orders.
These normal variations will not form the basis of an authorised return
All other warranties, both express and implied, are expressly disclaimed.
This warranty excludes all liability for consequential or incidental damages for any cause whatsoever.
Wood stains
We cannot guarantee a perfect colour match, as part of the character of a natural wood product is that it may vary in tone and grain.
Paint Finishes
A custom colour may not end up being an exact duplicate. This is due to a number of variables such as:
The species of timber the paint is being applied to
The number of coats applied
The degree of sanding and surface preparation
The temperature and humidity at application and drying
Special Note for Supply Only & DIY Shutters
All shutters, frames and battens are put through an eighteen-point quality control checking system. Once checked, they are photographed with high-resolution digital equipment before being packaged. Packages are then photographed as they are unloaded from the shipping container if they show any signs of damage.
Please bear this in mind when making a claim with regard to a damaged shutter, frame or batten. Shutters are very easy to damage on-site, and we will not replace or refund damaged goods unless you can prove that they arrived in this state. Please do not sign for damaged boxes until the contents have been checked.