So what's out there? If you're looking for the best shutters for living rooms, you're not alone. 
You'll be delighted to know that there are plenty of options for you if you're considering investing in shutters for living rooms, bedrooms or even your bathroom!
Full-height shutters, cafe-style shutters, tier-on-tier shutters and bay window shutters are all impressive options that will transform your haven of relaxation from dull to dapper. We dive into the pros and cons of each style next.
Full-Height Shutters
Full-height shutters are timeless. They are a fully-louvred style that makes an elegant impact in any room they're installed in. 
The Pros
Full-height shutters are great shutters for living rooms because they tick all of the boxes. 
Featuring adjustable louvres from top to bottom, you're in control of how much light you'd like to enter the room when open and provide efficient noise reduction and total privacy when shut. 
The Cons
Although full-height shutters create a beautiful, soft glow when they filter the sunlight, they provide limited light control compared to other types of shutters.
Another disadvantage of this style is that they may be blocked by furniture sitting in the way.
Cafe-Style Shutters
This type of louvred shutter only covers the lower half of your windows, leaving the top division bare.
We're going to run through the main advantages and disadvantages, but you can also read this blog for everything you need to know about cafe-style shutters.
The Pros
Cafe-style shutters don't cover the top half of your windows, meaning beautiful sunlight can stream in unhindered. This makes cafe-style shutters for living rooms a fantastic choice because you can keep the bottom half closed, maintaining 100% privacy at eye level. 
This style is also great for north-facing windows because the sun doesn't get low enough to be a problem, so you don't end up blinded by glare on screens in the room. Cafe-style shutters look very stylish without feeling overbearing. 
The Cons
Cafe-style shutters don't work well for windows that bask in the low morning or evening sun because there's no way to block out the light entirely unless you hang curtains too, which you may not want to do. Because let's face it – you want your shutters sitting pretty, front and centre!
Sunshine means glare on your TV, which is incredibly annoying. And half-height shutters also come with a lack of privacy if you're living room is overlooked by higher buildings. 
Tier-On-Tier Shutters
Tier-on-tier shutters look a bit like full-height shutters but each louvred shutter is split into two sections, meaning a standard pair of tier-on-tier shutters features 4 individually-operable compartments. 
The Pros
This style of shutter provides unbeatable light control because you can open and close the louvres of each section at your will. If there is furniture in the way, shut the bottom half. And if the sunlight starts streaming in when you're trying to relax in front of the telly – close the section it's travelling through! 
Tier-on-tier shutters are both stunning and supremely functional and work especially well for long windows. 
The Cons
Tier-on-tier shutters have lots of moving parts, and that means not only more bits and pieces to clean but a higher risk that something could go wrong or stop working efficiently. (Although we must stress that this is very rare!). 
At the Scottish Shutter Company, we think shutters for living rooms are the bee's knees, but they won't last forever – read up on things that could, but probably won't, go wrong with shutters in this blog.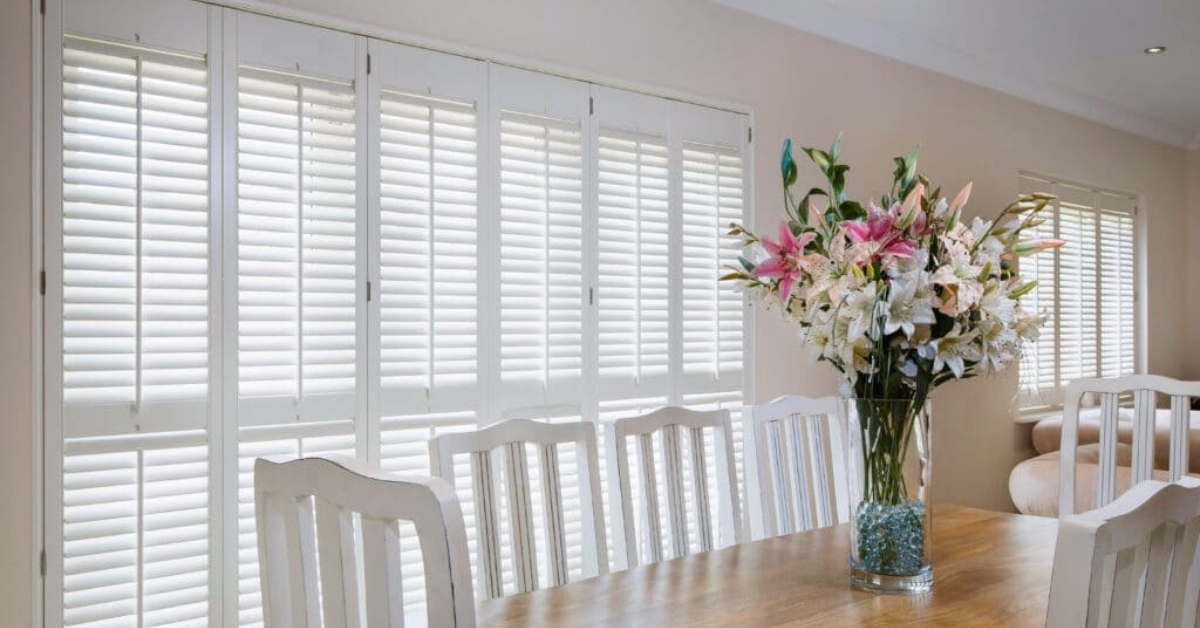 Bay Window Shutters
When it comes to the best shutters for living rooms, bay window shutters are a top contender. As the name implies, bay window shutters are made specifically for bay windows, and they can be done in any style that we have mentioned above. 
For those in the back, a bay window is a three-sectioned window that bows outward. 
The Pros
Everyone loves a bay window. They are fantastic architectural features, and installing shutters for yours will show it off for the world to see. 
Because you can choose from any of the styles we've already discussed, you're far from limited in choice, and if you've got a windowsill, you won't need to waste space with flappy blinds or curtains. 
Shutters for your living room bay window also work super efficiently at insulating your space because they are made-to-measure for a millimetre-perfect fit. 
The Cons
Getting in a trained professional to measure your bay window accurately is an absolute must; otherwise, you risk installing shutters that don't work. But good things are worth waiting for! 
Which Should You Choose?
First things first… If you're looking for the best shutters for living rooms and you have bay windows, go for bay window shutters.
If your living room features long windows, tier-on-tier shutters work brilliantly and look effortlessly stylish. 
Opt for cafe-style if your living room overlooks a main road (and your TV isn't facing the window!), and go for full-height shutters for a brilliant all-rounder that looks the part and works for living rooms of all shapes and sizes.
But don't let us tell you what to do! Investing in shutters comes down to personal preference. Need some advice on the best shutters for living rooms? Make an appointment to visit our showroom and experience our shutters in the flesh.