Covid Backlog:
(scroll to the bottom of the page for the latest update)
Many of our wonderful clients have been waiting for their window shading products to be installed for some time.
Judith has been keeping them regularly updated.
Due to the current COVID restrictions on non-essential businesses trading and entering your home, we have been closed for six out of the last twelve months.
Our Best Year – Ever 😊
However, despite the restrictions, the last twelve months have been our best ever. We just had to work really hard in those six-months that we were allowed to trade. 
Our Most Frustrating Year Ever 🥴
Being unable to visit our clients' homes is as frustrating for us as it is for our clients. What adds to the frustration are those companies and individuals in our industry who flaunt the government guidance and the new laws. 
It's the Law
Unless a window shading product is an imminent danger to the occupants, there is no valid reason for anyone from our industry to enter your home right now. Those who do are showing a blatant disregard for everyone's safety. 
On an average day (if we can remember that far back), our team can visit up to twelve homes in a day—a perfect recipe for spreading the disease. Those who flaunt the rules are unlikely to care about the safety of you and your family.
I-Spy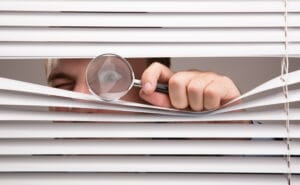 Last week, I noticed an unmarked van at one of our neighbours. The triangular box on the roof rack (yes, the van wasn't big enough for it to go inside) was a tell-tale sign that it was a blind box. And yes, a man appeared with tools, removed the blind from the box, and entered the house after the resident opened the door. Neither were wearing masks.
A Flawed Argument
I've seen some in our industry argue that a new, occupied home with no window coverings is an emergency situation. However, Trading Standards (with whom we have regular contact) and our own legal team have advised us that this is illegal. 
Updated Advice – Daily
David D'Ambrosio, our Technical Director, sits on the Management Committee of our national association – The British Blind and Shutter Association (BBSA). The Committee and its legal team have been updating us on what is possible and what is not possible under the new restrictions daily. A good reason for always buying your window shading products from a full member of the BBSA.
Temporary Blinds
We realise that it is annoying to move into a house with no window coverings for privacy and shading. However, other temporary shading methods are possible such as temporary window blinds available from Amazon.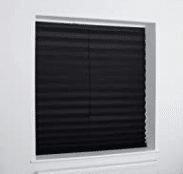 Even We Can't Get Our Windows Shaded
Judith & David will be moving into a new house in May without any blinds or shutters. They will have to wait their turn due to the restrictions and the backlog.
The Rest of the UK 🏴󠁧󠁢󠁷󠁬󠁳󠁿  🏴󠁧󠁢󠁥󠁮󠁧󠁿  
To add to our frustration, our colleagues in England and Wales have been able to trade (in a COVID secure way) as usual all throughout lockdown #2. So, Scotland has been unfairly treated. 
…But You Can Get a Haircut
As of 5th April, you can be in close proximity with your hairdresser for an hour, but we still can't be in a vacant room in your house. 
Government Statement
The Scottish Government released a statement on 16th March 2021. In that statement was the wording:
 "Work in people's homes will resume [from 26th April]"
Closed Door Appointments
We are now planning accordingly. From 5th April our Edinburgh showroom will open again for private, closed-door appointments. These appointment slots are already being snapped up.
Our closed-door appointments were very well received by our clients when we re-emerged after Lockdown #1.
You get the complete and undivided attention of one of our experts – David (Snr) or David (Jnr) for the duration of your appointment. 
Our Dundee Showroom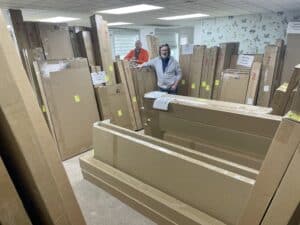 Our large Dundee warehouse, showroom, and offices are currently packed full of product just waiting to be fitted. At the last count, we had over seven hundred boxes of product waiting to be installed. It's just as well the Dundee showroom is closed to visitors – there's nowhere to stand.🥴 
We even had to increase our insurance premiums to cover this unusual stockpile.
Virtual Appointments
Throughout both lockdown periods, our virtual appointments by video have proven very successful. So, we now have a waiting list of over one hundred and eighty clients waiting for us to come out and measure their windows. 
The good news is that our manufacturing facilities have still been producing product. Albeit more slowly due to distancing restrictions.
Our Coiled Springs…
Our measuring and fitting teams, who have been flexibly furloughed since January, are like a coiled spring just waiting for the starter's gun to go off.
What We Can Do
Our teams have been able to do some things under the current regulations to ease our COVID backlog. Such as delivering product to clients who have space to store the boxes. But we still can't fit the product. We have also been able to measure and fit those jobs, which are either external (awnings and exterior security shutters) or where the house is still under construction as house building comes under different regulations.
We've also been able to measure and fit unoccupied houses, holiday homes, second homes or new builds where the owners haven't yet taken up occupancy. 
Unfortunately, taking the dog out for a long walk and leaving us in the house by ourselves while we measure or fit does not constitute an empty home under the current regulations. 
Our Plan
But even when we get the go-ahead, we'll still need to work our way through the backlog.
Judith is working hard on scheduling installation and measure appointment dates.
The Good News…
Our experience from Lockdown #1 is that we fully expect to be back to our regular lead times for new client orders placed after Lockdown #2 ends.
To compound Judith's challenge, Larah, who manages our processes, is expecting a baby in May. So, we're a (wo)man down.
Thank you, our wonderful clients (and future clients), for your support, custom and incredible patience.
UPDATE: 3rd May 2021
At last, on April 26th, 2021 we were allowed out again. Our Edinburgh showroom is now open by appointment only, but our Dundee showroom will remain closed for a few weeks. This is because, at our Dundee base, our warehouse, our offices AND our showroom are packed full of boxes waiting to be installed. There are over four months of product waiting to be installed.