LUXAFLEX REPAIRS
WE ONLY PROVIDE PRODUCT SUPPORT, ANSWER PRODUCT USE QUERIES OR CARRY OUT ANY LUXAFLEX BLIND REPAIRS OR SUPPLY SPARE PARTS FOR PRODUCTS SUPPLIED & INSTALLED BY THE SCOTTISH SHUTTER COMPANY
If you have purchased a Luxaflex product from The Scottish Shutter Company, then please follow the following instructions:
ALWAYS, EMAIL FIRST ([email protected]) WITH YOUR QUERY/ISSUE PROVIDING AS MUCH DETAIL AS YOU CAN
WE NEED YOUR NAME, ADDRESS, POSTCODE, DATE OF INSTALLATION, DESCRIPTION OF THE ISSUE AND DETAILS FROM THE PRODUCT IDENTIFICATION LABEL (SEE BELOW)
This is support is exclusively for our Scottish Shutter Company clients. 
Support for Luxaflex blinds not purchased from The Scottish Shutter Company should be emailed to [email protected]
or you can call Luxaflex on 0161 442 9500.
The Luxaflex Guarantee
Before we explain what the Luxaflex Guarantee involves, let's give you a little bit of background.
Luxaflex is the global leader in window coverings. The company manufactures all its products with high-quality materials, innovation, expertise and professionalism. A network of qualified dealers supply and install Luxaflex products throughout Europe.
The highest level of dealership within the Luxaflex network is The Luxaflex Gallery Dealer.
Luxaflex appointed us as the only Luxaflex Gallery Dealer in Scotland.  We have Gallery Showrooms in Edinburgh and Dundee.
A Luxaflex Guarantee covers every Luxaflex product you purchase (see below).
However, as a Luxaflex Gallery Dealer, we can also offer you the exclusivity of the Luxaflex 20/20 Gallery Gold Guarantee.
How the Luxaflex Gallery Gold Guarantee Works
As a Luxaflex Gallery Dealer, we will assist you throughout your purchase process. We will provide you with help and advice to ensure you get the right product for your windows. Then once your new window covering has been installed, you can use the first twenty days to try it out and see how you feel about it.
You can contact us before this twenty-day period is over. If for whatever reason, you are not completely satisfied.
Then within the next twenty working days (subject to availability), you can have your window coverings replaced on a once-only basis for another Luxaflex® product valued at the same amount. It's as simple as that!
The Luxaflex G20/20 Gold Guarantee is only available in Scotland from The Scottish Shutter Company. You can't get the 20/20 Gold Guarantee from any other window blind retailer in Scotland – not even John Lewis!
We're Here to Help.
Of course, all Luxaflex products have a Luxaflex Guarantee or warranty. We've included the formal part and the legal wording below. But we've been working with Luxaflex and its products now for nearly thirty-four years. We've built up an excellent working relationship with their UK team. They respect the extremely high level of knowledge we have in their products. This means that we are also well qualified to provide any advice you need on all aspects of window shading.
We are also able to help you with any Luxaflex warranty issue you may have.
We are only able to provide product support, answer product use queries or help with repair issues for products purchased and installed by The Scottish Shutter Company.
This is support is provided exclusively to our Scottish Shutter Company clients. 
The Data Label
If you have a challenge with a Luxaflex blind then the first thing we need to establish is the type of blind and when it was fitted. The best way to do this is to take a photograph of the Product Identification Label which you will find somewhere on the blind.
This data label will tell us, and more importantly Luxaflex the type of blind, if a repair is possible and how much it will cost. Repairs generally start at around £100 including carriage.
Without the data from the data label, there is nothing we, nor Luxaflex, can do. If a repair is possible and the price is acceptable to you, then you will need to get the blind to one of our showrooms which are now open by appointment only. So book an appointment if you want to return a blind for repair. This is one of the many changes we have had to make due to COVID. Always send your Product Identification Label pics to [email protected]
Repair turnaround times are around EIGHT to TEN weeks.
Your repaired blind will then be available for collection from one of our showrooms – again, by pre-arranged appointment.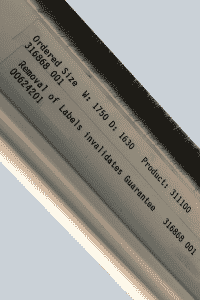 Luxaflex is a Very Accommodating Company
Here's an excerpt from an email we sent to someone who needed a blind repair. The blind was outside of the warranty period. But Luxaflex is a very accommodating company and will help where it can.
"Luxaflex has agreed to take the blind back to have a look. 
However, there are some caveats.  There are no guarantees of a repair and you must accept the risk of transit damage or accidental damage as they couldn't cover it as if anything were to happen. Their carrier insurance is limited. Also, a component (if obsolete) breaking during the repair would mean they couldn't fulfil the repair.
We also won't know the costs involved until Luxaflex has the blind back.  
So, we're happy for you to arrange a time to bring the blind to Scottish Shutters' Edinburgh showroom and we'll organise the return for you if you agree with the above".
Sometimes though, blinds are so old that no spare parts exist and can't be repaired. Occasionally, a blind will come back for repair which was manufactured prior to the introduction of the child safety regulations relating to window shading products. If this is the case it would actually be illegal for us and Luxaflex to do any work on your blind and return it to you without modification. If an older non-child-safe Luxaflex blind can be repaired, it is the Luxaflex policy that your product will be brought into line with current child safety regulations as part of the repair process. However, as a note of caution, your blind's cord lengths may have to be shortened to comply with the regulations. Sometimes this mandatory shortening of the cords may be an issue for you. We are happy to advise on all aspects of child safety relating to window blinds.
Window Blind Safety for Landlords
Landlords and letting agents should by now be conversant with the 2014 regulations on blinds and curtains and the measures necessary to prevent accidents with children. It is particularly important to ensure that blinds and curtains supplied in rental properties meet these regulations, otherwise, if there is an accident the landlord could be held liable. For more information go to
landlordzone.co.uk
.
Now you know where to come 😉
Give us a call on 01382 761020 or email [email protected] if you have any challenges, however small with Luxaflex products. We're here to help.
Now for the formal stuff…
Luxaflex Guarantee Terms & Conditions
The Luxaflex Guarantee states that your Luxaflex window covering products will be free from material and assembly defects. Provided that those products were properly installed in a domestic situation by a recognised professional installer. The obligation of Luxaflex is limited to the repair or replacement of defective materials or components. Repairs will be made with like or similar parts. This Luxaflex Guarantee is limited to the original purchaser.
Scope of The Guarantee
Components will be replaced with like or similar parts up to five years.
Cords are covered for three years
Fabric is covered for three years
Carriage to and from Factory is covered for one year
Labour (assembly & repair) is covered for one year
All dates apply from the date of purchase
Removal of the product from the window and re-installation is not covered.
Consequential loss is not covered.
The Luxaflex Guarantee is invalid if the damage or failure is caused by:
Accident
Misuse
Abuse
Alteration
Motorised devices
Exposure to the Elements
Normal Wear & Tear
Blinds not fitted in a domestic situation
Failure to follow cleaning & maintenance instructions
Incorrect or non-expert installation
Negligence regarding measurements
Luxaflex wood products are made from natural timbers and can deviate from Luxaflex sampling materials. Differences in colour and structure or changes in colour through exposure to sunlight are characteristics of real wood and are, therefore, excluded from the Luxaflex Guarantee.
Areas with high levels of heat and humidity can accelerate the ageing process and may cause the wood to warp. These changes are also excluded from the Luxaflex Guarantee.
Luxaflex fabrics can also deviate from the Luxaflex sampling materials. Differences in colour and structure or changes in colour are also excluded from the Luxaflex Guarantee.
The Luxaflex Guarantee is exclusive and in lieu of all other obligations, liabilities or warranties. In no event shall Luxaflex be liable or responsible for incidental or consequential damages or for any other direct or indirect damage, loss, cost, expense or fee.
The Luxaflex Guarantee does not affect your statutory rights as a consumer under applicable laws in force in the UK. Nor does it affect your right as a consumer against The Scottish Shutter Company arising from our sales contract.
The Luxaflex Gallery Gold Guarantee Conditions (The Small Print)
The Gallery Gold Guarantee does not apply to damaged products or products which have been used incorrectly, incorrect installation, measurement errors, guarantee claims, products with electrical operation or special designs.
Unless Luxaflex allows otherwise, the dimensions of the replacement products must be identical to the dimensions of the original product.
The original customer must submit the claim to The Scottish Shutter Company.
If the replacement product is more expensive than the original product, the difference in value will be charged.
In the event that the product is cheaper, no reimbursement or refund will be given.