UK Made Luxaflex Shutters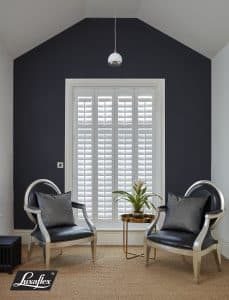 From traditional to contemporary, casual to formal, express your individual style with the timeless beauty of Faux Wood shutters. Now you can add dramatic light control and a personal touch of elegance to any room.
Faux wood shutters combine the traditional warmth and beauty of natural wood with the practical advantages of high-tech materials and intelligent design.
Composite Shutters
These shutters are quality engineered using an advanced solid core composite material that outperforms other shutters. A specially hardened encapsulation ensures a smooth, long-lasting satin finish that stands up to moisture, heat and ultraviolet rays without fading, denting, warping or chipping.
EnergySavvy® shutters insulate better than wood yet priced just above our mid-range real-wood shutters. The shutters are also easy to care for. Faux Wood shutters are scientifically certified to meet rigorous energy savings criteria.
The high-tech features, impeccable beauty and quality construction can significantly enhance the value of your home. And at an extremely affordable price and help you reduce your energy bills.
As you would expect with a core composite material, there are, however, some shutter shapes and designs that will undoubtedly be better in real wood shutters.
Think of Faux Wood shutters as being ideal for standard rectangular windows.
Versatile and Durable Wood Impressions
Resisting the damaging effects of moisture and humidity, Faux Wood Shutters are ideal when creating effortless and practical style in any interior.
Two Louvre Widths
There's a choice of two louvre widths – 64mm and 89mm. This allows you to optimise your view and maintain your privacy.
A wide variety of styles
Tier-on-Tier – a full-height installation with independently opening top and bottom panels.
Full-Height – another full-height installation where each shutter panel is the full height of the window. Independent tilting of the louvres above and below a horizontal fixed intermediate rail may be possible
Café-Style – a partial height installation where the shutters only cover the lower portion of the window.
Take control of the light and privacy in your home. This range of shutters is energy efficient, fire retardant, moisture resistant and child safe.
Our Faux Wood range of interior window shutters is manufactured entirely in the UK. This means a fast and efficient delivery service.
Four Weeks Delivery
Typically, from order to installation takes around four weeks. Although, in certain circumstances, this can be a quick as two weeks. However, right now, COVID has had an effect on deliveries.
Always Dry
This means that your shutters will resist the damaging effects of moisture, making them a perfect choice for wet or humid environments. They're ideal for steamy bathrooms, pools or Jacuzzis, especially where mildew and odorous bacteria can be challenging. They are also the perfect choice in coastal, salty environments.
EnergySavvy
Faux Wood shutters help to reduce heating and cooling costs as well as outside noise.
Recyclable
The shutters are 100% recyclable. Their non-toxic formulation means that when your Faux wood shutters will never leach harmful contaminants like formaldehyde (a common indoor pollutant) into your home. Faux Wood shutters also meet regulations regarding VOC emissions.
Protected Surface
The outer layer of your Faux Wood shutters is specially hardened and enhanced to resist dents, dings, peeling and cracking. The durability far surpasses that of vinyl shutters.
Easy Care
A key characteristic of Faux Wood shutters is that they are easy to maintain, just with regular dusting. A feather duster is ideal for this – Ostrich feather if you can get one. They can also be cleaned, in necessary with ordinary soap and water. You'll never have to oil, sand or refinish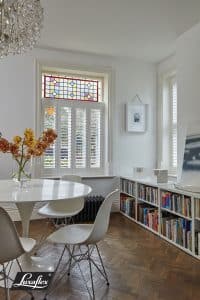 your Faux Wood shutters.
Child Safe Window Shutters
Our window shutters do not have any operating cords or chains which could be dangerous for small children.
Bacteria Free
The advanced composite technology used in the manufacture of these shutters prohibits the growth of fungus or bacteria.
Fade Resistant
Everything under the sun fades eventually, but the advanced composite technology used in the manufacturing of these shutters contains optimum levels of ultraviolet light inhibitors which helps to make them fade resistant. For best results, it's better to use lighter coloured shutters in areas exposed to high levels of sunlight. A south-facing aspect and the level of shade will also have an effect on durability.
Quality Assurance
Your Faux Wood shutters come with a ten-year guarantee.
Luxaflex Faux Wood Shutters at The Scottish Shutter Company